Photo Essay
In order to contain and manage the COVID-19 situation, Singapore relies on technology, rigorous, systematic methods and restrictions. With the most recent outbreak, the government has pushed back plans to remove restrictions with the goal of eventually being able to live with the virus. This photo-essay takes a closer look into the small-island state and how it manages COVID-19 through technology and systematic orderly approaches.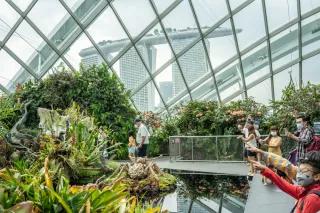 If found not wearing the mask properly, one could face a fine of $300 SGD during the first warning, $1,000 during the second warning and subsequent warnings could result in prosecution at the Singaporean courts.
| | | | |
| --- | --- | --- | --- |
| 📷 New mask distribution vending machines were rolled out by Temasek Foundation from 10 Jan 2022. Residents of Singapore could collect their masks for free until 23 Jan 2022. |   |   | 📷 This is the 6th cycle of mask distribution. Residents could collect their masks by scanning their ID card via the vending machine. |
There are 130 collection points within heartland estates, 15 other selected malls and various supermarkets to facilitate the collection of the free masks which come in size M and L. The new masks are reusable which comes with a N-95 filtration middle layer. The new mask's filtration layer makes it more breathable than the standard N95 filters and provides 99% protection against viruses and bacteria.
📷 A resident in the Farrer Park area collects her new Trace Together Token device, it is a physical device that exchanges Bluetooth signals with other Trace Together tokens or mobile apps to aid digital contact tracing efforts. It has a battery life of four to six months and once exhausted can be exchanged for a new one by trading it in at the device vending machines. One has to use this token or the Trace Together app to access any public space in Singapore. According to the Singaporean govt, the Trace Together token or app allows the govt to track and trace on one's proximity with an infected individual. These measures have helped to curb the spread of COVID-19 within the community.
Singapore currently has four different travel categories. All travellers have to take a mandatory antigen rapid test or a PCR test 48 hours before flight to Singapore and an ART test or PCR test upon arrival depending on the travel category. Until one receives the results, one has to self-isolate. This is for specific countries. Travelers from other countries are required to serve a stay home notice either at their place of residence, self-sourced hotel or apartment. The rules are ever changing. Singapore's visitors' percentages dropped 80 percent in 2021.
| | | | |
| --- | --- | --- | --- |
| 📷 Interactive digital display panels were rolled out in different public housing estates in Singapore. |   |   |   |
This was a technology introduced already before COVID-19 in 2019. However, utilizing these digital display panels, the government put up reminders to residents on current safety measures such as for an e.g., Currently only groups of 5 are allowed to hang out together in any spaces, these rules are ever changing according to the rate of infection in Singapore. The information on the digital display panels also serve as reminders for residents to mask up and wash their hands regularly and encourages residents to get vaccinated.
📷 One finds safe distancing- stickers placed on benches in various public spaces like this one at the benches of Cloud Forest at Gardens by the Bay, a Singaporean visitor's attraction. This encourages people to space out apart from each other.
📷 Eunice Yeo owns an ethical period underwear business known as "MoonCheeks" together with her business partner Jamie Choon. She regularly conducts her work affairs via zoom meetings. Internationally, Zoom has evolved to be a way of connecting without meeting up face to face and this has been utilized with business meetings and teachings in Singapore.
Since 13 October 2021 only vaccinated individuals are allowed to dine in restaurants or enter malls. The same rules apply to most of the other public vicinities such as cinemas etc. These automated safe entry gantries check one's vaccination status by scanning their Trace Together app. If the individual is not vaccinated, he or she is not able to enter the vicinity. Those who are not vaccinated can still enter malls if they have a negative antigen rapid test result or have recovered from COVID-19 (must produce evidence). The safe entry gantry also keeps track of who has entered the mall therefore allowing the government to inform individuals who have come into close contact with infected people. About 84.8 % of Singaporean residents are vaccinated.
"Safe Distancing Ambassadors", marked in their stark red shirts, are employed to serve warnings to individuals who are not wearing their mask properly or are not observing the safe distancing measures. They are easily recognized by their stark red shirts which state their role as a safe distancing ambassador. Their red shirts serve as a reminder to the public to wear their mask properly and to distance themselves from others while going about with their daily activities. Currently, safe distancing ambassadors  can enter residences without a warrant,to check if the current COVID-19 regulations are complied with. Refusal to comply with a safe distancing officer can result in a $10,000 fine or 6 months of jail time.
Checking into other venues such as malls, shops, restaurants, gyms etc are mandatory  to keep check on who has entered and left according to the timings checked in.
The lock down, called "circuit breaker" was initially imposed from 7 April 2020 till 4 May 2020 but further extended to 1 June 2020. Most workplaces and businesses were to be closed, except for those providing essential services, and schools moved to full home-based learning. Singapore moved into different phases after the circuit breaker as way of reopening the country and lessening of restrictions imposed. Currently Singapore is in phase 2, one phase away from returning to normal. The authorities said that reaching the next phase could take multiple steps depending on how the situation evolves.
📷 Vending machines issuing COVID-19 Antigen Rapid Test kits are found in different neighborhood areas of Singapore, these machines only dispense free ART kits (6 of them) should you have received an official notification from the Ministry of Health. You will first scan your national ID and the kits are issued via the vending machine. Each package contains up to 3 test kits and you are allowed to collect two packages. You will need to test everyday with the ART test kit before heading out and about with normal activities of the day. However once tested positive and with less severe symptoms, you will have to be isolated at home until further instructions.
📷 Dilla works in the sales and business development department for a customer service software department. Dilla is new to this job and due to COVID-19 restrictions in Singapore she is unable to meet most of her work colleagues face to face. Most of her meetings are conducted over video call. She's been working from home for the past few months. The recent rules and regulations released by the Singaporean government encourages office workers to work from home. At the moment only 50% percent of employees are allowed to work at the office. Those who are not vaccinated are not allowed to work at the office and those who have not received their vaccination booster dose will be counted as not vaccinated.. Dilla is vaccinated, just not called to the office yet.
| | | | |
| --- | --- | --- | --- |
| 📷  A ticketing counter found by the Gardens by the Bay is closed. |   |   | 📷 a poster at a lamp post telling visitors to mask up. |
The Singaporean government tries to limit interactions between visitors and working individuals. Most of the ticketing counters found at the attractions of Gardens by the Bay are closed thus encouraging individuals to make their bookings online or by scanning set up QR codes for them to access booking pages easily to make their payment.
The future of Singapore and the rest of the world still faces uncertainty though the borders are slowly reopening. As of 15 February 2022, due to the new Omicron variant found in COVID-19 and the nature of it being more infectious, we have daily cases of infection resulting in about 10,000. The rates of infection are concerning due to a small population ratio and land mass. Our population rate stands at 5.6 million and at land mass of only 728.6 kilometres thus making our country one of the most densely populated countries globally as we hold a population of more than three million living in an area of 600 square kilometres.
__
Photo Essay - COVID-19 in Singapore: Technology and Systematic Orderly Approaches