Article
The slow implementation of urban waste solutions and wastewater treatment projects leads to environmental problems and the risk of unsustainable development in the near future on Phu Quoc Island, Vietnam.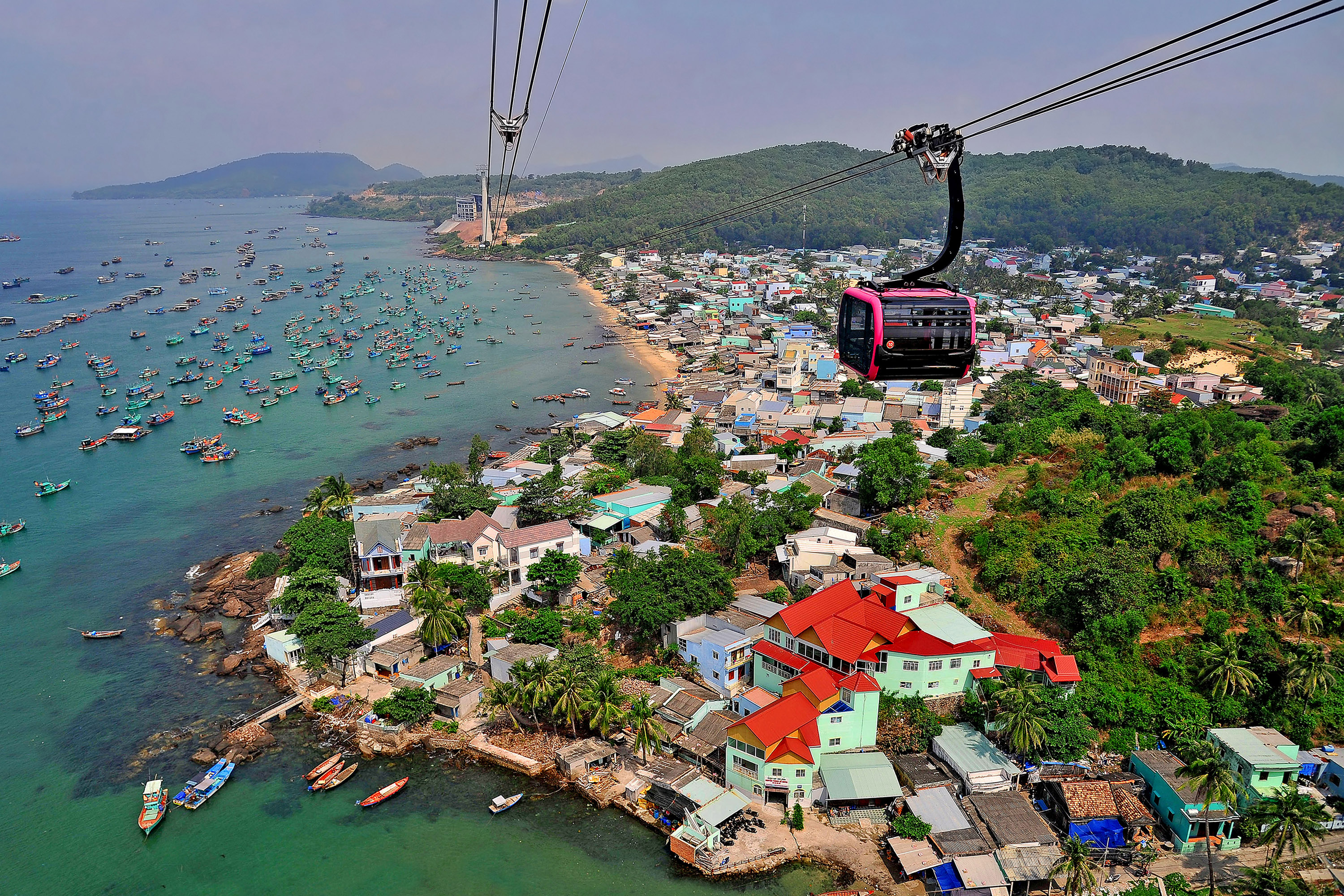 Phu Quoc Island lies south of the Cambodian coast and is located to the west of the Vietnamese mainland in Kien Giang province. It is well-known for tourism and attracts millions of domestic and international visitors each year. In 2019, before the outbreak of the COVID-19 epidemic, the island welcomed over 5 million tourists. Over the first months of 2022, as the COVID-19 situation became more under control, the island received an average of about 200,000 visitors per month.
However, Phu Quoc is flooded with garbage, and local authorities and residents are becoming increasingly concerned. Many tourists have also expressed disappointment at the waste situation and poor sanitation on the island.
| | | |
| --- | --- | --- |
| Garbage in Dinh Cau beach area, Phu Quoc Island |   | Floating garbage by the jetty. |
Waste is generated every day on Phu Quoc and due to lack of good management and limited awareness of the part of some residents and tourists, garbage becomes rampant and pollutes the environment in many areas. This negatively affects the tourist image of the island.
| | | |
| --- | --- | --- |
| Roadside trash, awaiting pickup. |   | Trash negatively affects the tourist image. |
The central market of Duong Dong town and An Thoi market on Phu Quoc Island are also alarming because of traders dumping garbage indiscriminately. Additionally, some of the famous and well-known tourist destinations such as Suoi Tranh waterfall and Bai Sao beach contain significant levels of environmental pollution and garbage. Most of the waste is plastic waste and polystyrene food containers.
Garbage hotspots stretch from the north to the south of Phu Quoc Island, and is located on sidewalks, in markets, forests, and the sea. More specifically, there is a huge amount of drifting garbage in the area along the coast of the largest town Duong Dong, near its main park, a few dozen meters from the popular beach Dinh Cau. In addition to polystyrene (Styrofoam) boxes and fishing nets, floating plastic waste or sediment in the seabed haunts many local and tourist areas.
Overwhelming landfills limiting options
For many years now, temporary garbage dumps have been the immediate solution to deal with waste. Taking up several tens of hectares of land, there are currently three landfills on Phu Quoc Island, in An Thoi town, Ong Lang and Ham Ninh. These landfills used to receive dozens, sometimes hundreds of tons of waste per day, and most of them are now overloaded. There is no waste treatment plant in operation on the island.
Environmental pollution in temporary landfills is very alarming. The huge amount of garbage entering the landfill is increasing, wastewater from the garbage pours out, polluting the water in the surrounding low-lying areas. It causes an awful odor, with the smell affecting everyday life for residents, who have voiced their concerns and anger over this situation.
| | | |
| --- | --- | --- |
| A giant temporary landfill in Ong Lang, Phu Quoc Island. |   | An excavator digging a pile of garbage. |
According to the Phu Quoc District People's Committee, on average, the island district (Kien Giang) generates about 150 tons of waste every day. This amount of waste is a long-standing concerning problem and causes great pressure on the environment of the whole island district.
The Phu Quoc Public Works Management Board is in charge of collecting about 80% of the total amount of waste each day for the whole island district, with about 100 environmental sanitation workers across the district.
However, this amount of garbage has increased because of Phu Quoc's rapid population growth. Despite the authority's efforts, waste collection is still overloaded because the amount of regular trash every day in Phu Quoc is still a very high volume.
Phu Quoc used to have a single waste treatment plant located in Bai Bon hamlet, Ham Ninh commune on Phu Quoc Island. Built on an area of ​​10 hectares, the treatment plant had an investment of about VND 230 billion, with a capacity of handling 200 tons of waste per day. However, the facility has been shut for many years because the waste treatment technology was not effective.
Plastic waste accounts for the majority of garbage in Phu Quoc
According to a survey conducted in 2021 by the International Organization for Conservation of Nature in Vietnam (WWF-Vietnam), the average rate of solid waste generation in the Duong Dong river at Phu Quoc is about 200 kg/day. Ms Nguyen Thi My Quynh, Program Manager at WWF-Viet Nam for Marine Protected Areas, outlined that about 70% (139 kg) of solid waste from the river is being collected and buried by the Public Works Management Board. Around 26% (51 kg) of the remaining waste lies in hot spots that are inaccessible to the river collection team and only 4% of the waste (PET bottles), or about 8 kg, has been collected and recycled.
| | | |
| --- | --- | --- |
| Floating plastic debris across Phu Quoc waterways |   | Visible garbage by the jetty. |
Ms Quynh believes that the classification of waste components, especially by type of plastic, helps to provide a basis for identifying common polluting plastics in the river, and the proportion of waste that has the potential to be recovered and recycled if possible.
This classification by use also aims to identify the types of plastic products commonly used and disposed of in the river, which can help to identify interventions to limit use or increase collection from upstream to prevent further waste ending up in the river.
Cleanups only a temporary solution
The Phu Quoc Island government regularly organizes garbage cleanups, with thousands of participants, However this is not done often, so the waste situation in Phu Quoc still worries many people. The image of the beautiful tourist island of Phu Quoc has now become tainted by the waste issue.
Looking for a way to solve the waste situation on Phu Quoc Island, Mr Nguyen Thanh Nhan, Vice Chairman of the People's Committee of Kien Giang province, said that it is necessary to re-evaluate the capacity of their resources, to find solutions to speed up the progress, and to invest in a new waste treatment plant. This is a particularly important solution to solve the problem of waste in Phu Quoc Island.
According to Mr Nhan, local authorities need to strengthen the management of tourist areas, central residential areas, and mobilize people and tourists to have a sense of environmental protection and not to litter indiscriminately.
__
Pham Hoang Giam is a journalist and photographer at Dan Tri Newspaper / Báo Dân Trí. Vietnam. He is based in Ho Chi Minh City and also covers the Mekong Delta. His main focuses include environmental issues, climate change, epidemics, urban and rural life.
The views expressed in this article are not necessarily those of Heinrich Böll Stiftung.