Article
The Mekong Delta where the turbid water flow of the Mekong River passing through before joining the sea, is the largest area of rice, fruits and fishery production in Vietnam. It is also the place which seriously affected by climate change, drought, saline intrusion, sea level rise and landslide. In the last few years, unpredictable weather pattern has made crops in the Mekong Delta unstable, leading to a harder life for the people and as a consequence, the influx of people from rural areas to big cities has spread through the whole region.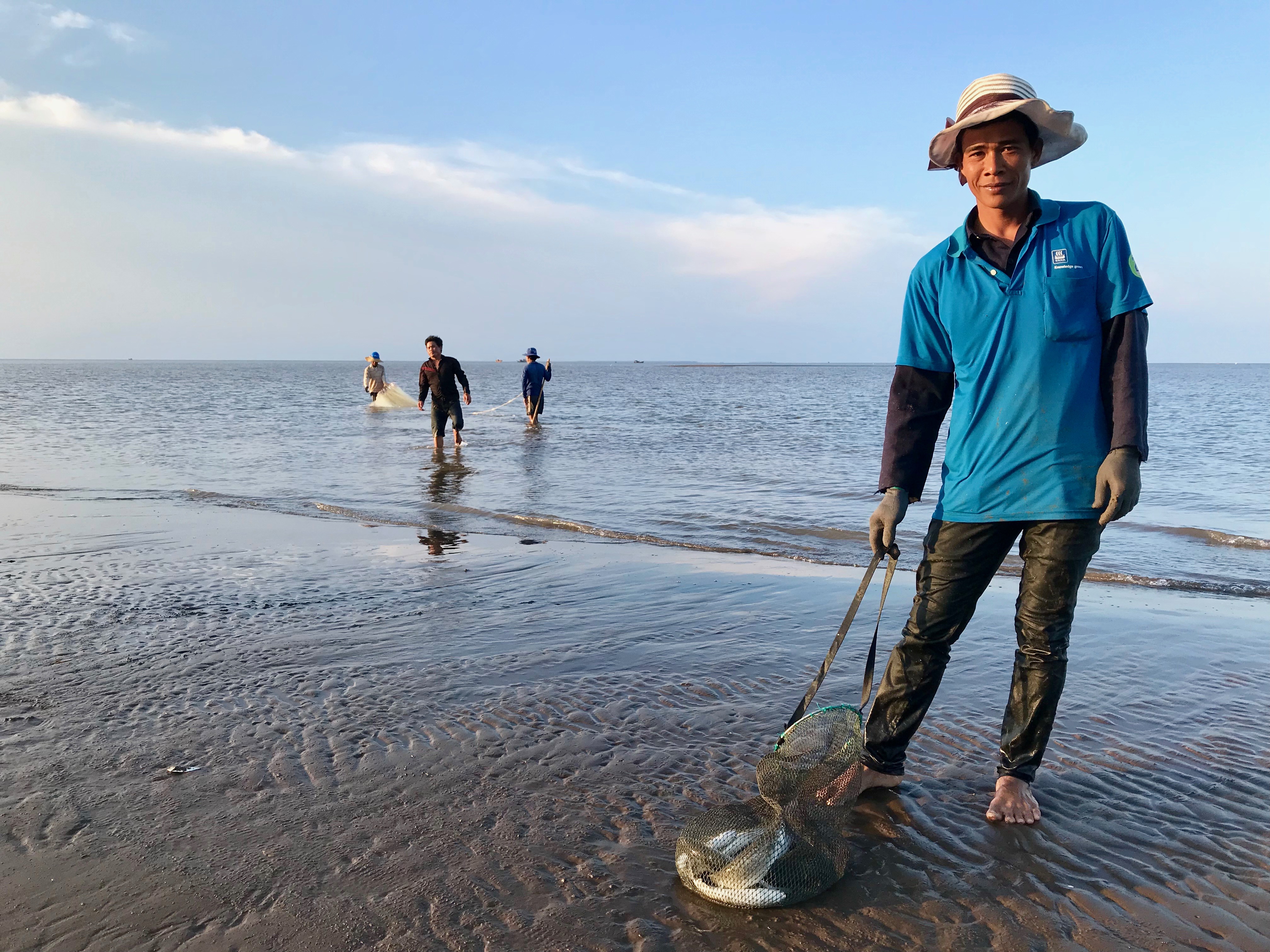 Some early rains in mid-May has arrived but it was not enough to ease the thirst of the land of Tran De District, Soc Trang Province and other coastal areas such as Duyen Hai district of Tra Vinh province. These are the most remote areas in the Southwest Vietnam, which are located right at the mouth of the Mekong River. Along the inter-provincial road No. 935 from Tai Van crossroads to Thanh Thoi An commune, Tran De district lies many dry and cracked fields. More than 22,000 hectares of land for the third season of growing rice from February to May have been abandoned for months because of there was no fresh water due to salinity in inland waters.
Leaving the field, going into exile
Sitting in the middle of harvested cucumber fields to pick up the wilted cucumbers left behind to feed his cows, Mr. Danh Son, 47 years old, living in Tac Buom Village, Thanh Thoi An commune, said that since winter-spring crop after Tết, the Lunar New Year in early February 2019, his 1.2-ha-field have been left abandoned.
"At the same time few years ago, I was harvesting the third crop. But after the dry season in 2016, the third crop failed massively, the commune could only have 2 rice crops. A few fields near the canals that store fresh water are still possible to grow melon or other crops. However, the price was so volatile. Last year we could sell 5,000 VND per kg (0.21 USD) but it fell to 3,500 VND per kg (0.15 USD) this year, " Son said.
On the last rice crop, he harvested 8 tonnes, a 2-tonne drop compared to 2018. Taking out 500 kg of rice for his own family, Son sold the rest at 4,600 VND per kg (0.20 USD)  and get a total of about 34 million VND (1,452 USD). After paying back all of the loans for seeds, fertilisers, pesticides which mount up to 19 million VND (811 USD), the earning of 4 months working hard leaves almost nothing for him and his family.
"It was so hard that both of my children have left to Binh Duong Province to work in the factory after they got married. Their 3 children (our grandchildren) are all left with us to take care for," Son said.
Along the main road from Son's place toward the centre of Thoi Thanh An Commune, lies many locked empty houses.
"All of my six children have left to become migrant workers in Dong Nai Province. They only come back once a year at Tết Holiday. Only this girl, the daughter of my third child is left with me to help taking care of cooking as I'm getting old and sick all the time," told Ms. Lieu Thi Ren, 64 years old, pointing her eyes to her 12-year-old granddaughter.
Before, Ren also had a hectare of field but when her husband was diagnosed with cancer, they had to sell the field to pay for the treatment. The whole family left with a burden when her husband died and all of her children had to spread out to earn for a living.
Holding a household record, Mr. Lam Hoang Khal, 57 years old, the head of An Hoa hamlet 1 (sub-village), said that out of 326 households in his hamlet, 49 families have left their houses and moved east to other provinces or to Ho Chi Minh City to work as labors. A part from that, at least one person in every households has left for the same purpose. Due to the trend of going to the city to become labor, 40 households in An Hoa Hamlet 1, have escaped poverty in the past 2 years. All of them are labors.
"For a family that has one hectare of agricultural land with six children, how can you get enough food to survive. But if they all go to the city to work, each would receive 6-7 million VND per month (256 - 299 USD). Taking all the costs out, the remaining amount will certainly be much better than farming at home," Mr. Khal said.
Living in the land, invaded by the sea 
From Tran De it connects to the tributaries of the Mekong River in Duyen Hai and Tra Vinh districts, those are areas that suffered the most from severe landslide in the Mekong Delta. Walking along the coast, where lying nearly 20-year-old Casuarinas tapped to the beach, Mr. Nguyen Van Thuc, 57 years old, of Dong Thanh hamlet, Dong Hai commune, Duyen Hai district said, "For years, the tides is getting more unusual, in the last few years. The waves are very strong during the windy season in October. People do not know how to respond."
Tapping on one big tree knocked down, Thuc continued: "About 3 years ago, my house had 4 industrial plot of land (4,000 m2) and planted poplar here with some of the crops such as peanuts, onions, watermelon. After few seasons of landslide, we only have 500 m2 left and I had to abandon it. "
He now has to work as a motorbike-taxi rider and his wife started a small shop at home to earn for a living. His children have left to work in cities.
Thuc's neighbour, Ms. Nguyen Thi Nap, 60 years old, was trapped in the same situation as 6,500 sq.m of her agricultural plants, watermelon, onion, peanuts were destroyed by the sea encroachment. Having lived in the area for 29 years, Nap has witnessed so many unusual changes of the nature.
"We used to live on fishing in this hamlet. Since the thermal power plant built nearby, fisheries has become rare, we had to give up and sell all of our fishing tools. My children went to the city to become workers and myself tries to stick with agriculture as I have no other options," Nap said.
From Dong Hai commune to Quan Chanh Bo canal, it is the shortcut for heavy loaded boats to go to the Mekong river, Dan Thanh, Hiep Thanh and Truong Long Hoa communes of Duyen Hai town, Tra Vinh province have also been tattered in the past few years.
Pointing at the fishing vessel about one killometer from the shore, a fisherman in Truong Long Hoa commune Mr. Doan Thanh Long, 36, said 20 years ago, that would have been two hectare of his family's land. When the sea encroached on, his family had to move to Truong Long Hoa Commune. The graves of his ancestors had to be moved many times for the same reason.
[gallery]
Migration and its consequences
Not only in the Mekong Delta, many other places in Vietnam have suffered from the obvious impacts of climate change in recent years. People do not have knowledge about climate change resilience, they merely try to adapt to new circumstances and one of them is migration. There are more and more young people have migrated from rural to urban areas due to climate change.
Vice Chairman of Thanh Thoi An Commune People's Committee, Tran De District, Soc Trang Province Mr. Nguyen Hai Quan said that out of its population of 3,071 people, there are about 1,300 people have gone to work in industrial parks in other cities and provinces.
"They do not just leave during the drought and salinated seasons like before. It is easier to find a stable job with better income than staying in their hometown," Quan said.
Looking at migration in a positive view, the head of Agriculture and Rural Department at Tran De District, Soc Trang Province Mr. Tran Hoang Dung said it was difficult to keep young people in rural areas when climate change have made cultivation more difficult with higher risks.
"Farming families usually have many children and there is not enough land to cultivate. It's better that they sell or rent it out to find another job to do. The biggest concern is how to take care for younger generations, children of those people who left home to work in the urban areas," said Dung.   
On the other hand, migration has made many rural areas gloomy and deserted with abandoned fields, said Assoc. Prof. Dr. Le Anh Tuan, Deputy Director of the Research Institute for Climate Change in Mekong Delta, Can Tho University.
He explained, "Young children are sent back home by their parents to their grandparents to take care of but there was not enough attention paid, it could lead to a high risk for them of being derailed or even abused.  Meanwhile, the urban areas are also put under pressure from population growth, pollution, congestion, waste, sewage, industrial accidents."
Promising signs from the government
During the historic dry season and saline intrusion in 2016, the agricultural production in Vietnam was severely damaged at an estimated amount of more than 15,000 billion VND (more than 6.4 billion USD) with Mekong Delta suffered the heaviest. The Government has issued Resolution No. 120 on sustainable development with regard to climate change resilience by including key goals such as ensuring people's livelihoods, promoting potentials, strength, transform challenges into opportunities.
"The level of saline water intrusion in 2019 is almost the same compared to 2015-2016 season when 10 over 13 provinces announced rice lost by saline intrusion reached 158,808 hectares, but there is no rice lost due to saline this year, " Dr. Duong Van Ni, Specialist on biodiversity, Department of Environment and Natural Resources, Can Tho University said.
It is, according to Ni, due to early salinity monitor with timely operation of irrigation system and a close contact with farmers in adjusting cultivation schedule. In addition, the third season of rice planting during dry season has been cancelled in many provinces
Changing from three rice-planting seasons to two seasons, plus to add one of other crops has always been recommended by scientists as it allows the soil to rest and restoring the fertility. By these methods, the risk of saline damage has been reduced.   
"Resolution No. 120 has listed rice after fruits and seafood. It means putting less presure of "food security" on rice. Therefore, local authorities are more confident on directing farmers not growing rice in areas with high risk during dry and saline season.  
"Importantly, farmers have better awareness by following recommendations by the authority. That is clearly an initial positive resilience," Ni said.
Tran De district, Soc Trang province has set an example by stopping the third rice crop of over 22,000 since 2017. In fact, many key rice producers such as An Giang, Hau Giang, Dong Thap, Soc Trang provinces are planing to focus on high quality rice varieties. Meanwhile, salinated areas such as Kien Giang, Bac Lieu, Ca Mau, Ben Tre provinces are also changing the production structure by rotating one rice crops with shrimp or fish cultivation to adapt with climate change.
In his statement in a hearing of the National Assembly in November 2018, Prime Minister Nguyen Xuan Phuc confirmed that along with Resolution No.120, the government had issued an action plan for developing Mekong Delta sustainably with an expected budget of 12 trillion VND (approx. 513 million USD) for projects and an addition of 2.5 trillion VND (approx. 107 million USD) recently for development projects. So far, 20 green growth projects with a total investment of 307 trillion VND (approx. 13 billion USD) have been implemented in Mekong Delta.
Key direction for most vulnerable areas
According to Mr. Nguyen Huu Thien, an independent expert on Mekong ecology, Resolution No. 120 is especially important to Mekong Delta, home of 20 million people with around 4 million hectares, producing 50 percent of food production, 65 percent of fruit production, 75 percent of aquatic production and contributing 20 percent ​of the country's GDP. This resolution includes following basic features: developing the Mekong Delta with respect to the nature, avoiding violent interference with nature; turning from purely agricultural thinking to agricultural business; considering salt water, brackish water and fresh water are all natural resources; Integrated planning of the whole Mekong Delta, development planning for Mekong Delta taking into account coastal waters.
"In the last 2 years, the Government has taken positive steps towards the implementation of the Resolution. The Ministry of Planning and Investment together with experts drafted an integrated Mekong Delta Regional Planning, which expected to be completed by the end of 2020. The plan will be the framework for the implementation of Resolution No. 120. The Ministry of Agriculture and Rural Development has drafted the overall program of sustainable development for the agricultural adaptation of Mekong Delta to climate change. The Ministry of Natural Resources and Environment was assigned by the Government to coordinate with other ministries and agencies to set up the overall Action Program to implement Resolution No. 120," Mr. Thien said.
Building 1,300 storm resilient houses
According to the United Nations Development Program (UNDP), in 2018 the project "Improving the resilience of vulnerable coastal communities to climate change related impacts in Vietnam" has built 1,098  storm resilient houses, planted and restored nearly 200 hectares of mangrove forests.
Besides, the project also trained for about 11,000 staff at all levels and people in 100 communes on community-based disaster risk planning and assessment. It is expected that more than 1,300 safe houses will be built in 5 provinces under the project in 2019. In addition, the project also targets to recover more than 1,300 hectares of mangrove forests and provide more community-based disaster risk training for 152 communes.
Vietnam actively engages to enforce Paris Agreement
Speaking at COP24 in Katowice, Poland, The Vietnamese delegation head, Deputy Minister of Natural Resources and Environment Mr. Le Cong Thanh said as an active participant of international agreements on climate change, Vietnam has issued Paris Agreement Implementation Plan which focused on national contribution towards achieving greenhouse gas emission reduction targets and national resilience.
Climate change resilience and carrying out national determined contribution has become a regular and continuous activity of the nation. It has been mainstreamed into social economic development activities at all levels and across businesses, communities and every Vietnamese citizens.