Opinion
President Rodrigo Duterte's recent decision to overturn a nationwide moratorium on new mining projects, which had been in place since 2012, was lauded by mining and business entities (1) and criticized by environmental and human rights groups (2). Aside from allowing new mines to open in the country, Executive Order No. 130 (EO 130), which was signed on 14 April 2021, calls for a number of reforms.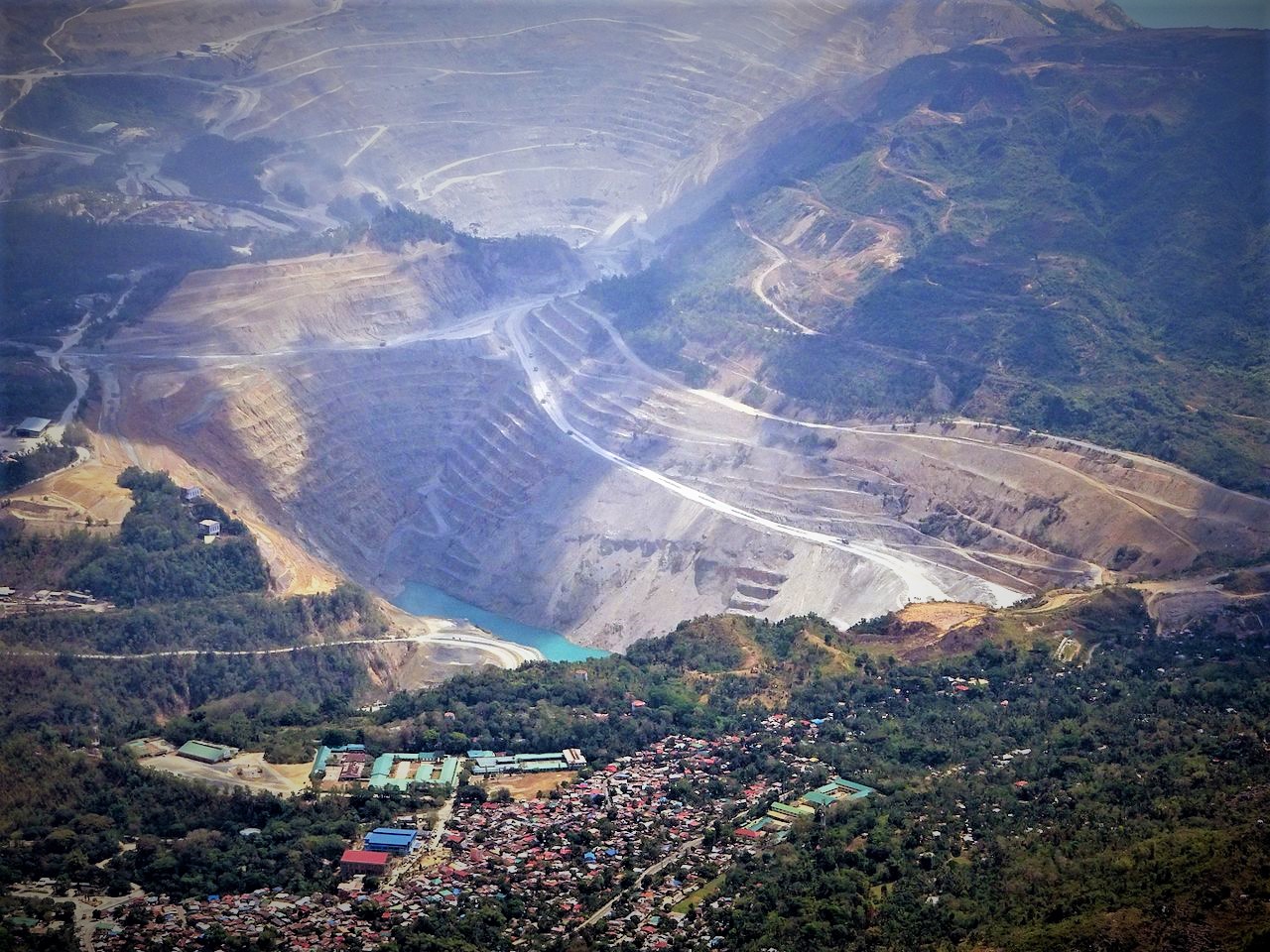 A Disappointing Reversal
EO 130 requires the Department on Environment and Natural Resources (DENR) to formulate terms and conditions that will maximize government revenues in new and existing mining contracts, and also calls for the strict implementation of safety and environmental policies (3). DENR Secretary Roy A. Cimatu has vowed that new measures will be in place which will limit adverse effects to the environment (4). During the DENR's consultative meeting on the implementing rules and regulations of EO 130, it was stated that the ban on open-pit mining will also be lifted (5).
Up until this point, President Duterte, who is in the last year of his presidency, was perceived to be a rather strong critic of mining, legal and illegal alike. In his first State of the Nation Address in 2016, he strongly criticized mining, imploring the importance of protecting the environment (6). He did the same in 2017 calling for "responsible, regulated and sustainable development", even saying that "the protection of the environment must be made a priority ahead of mining" (7). Early in his presidency, he even attempted to appoint the late Gina Lopez, a prominent environmentalist who was outspoken on her anti-mining stance, as Secretary of the DENR.
EO 130 points to the need for economic and rural development as the main reasons for opening up the country to further mining operations. This is a timely argument. Due to the coronavirus pandemic, the Philippines' GDP shrunk by 9.5% in 2020 compared to 2019 (8). Optimistic estimates state that the country's economy could recover by late 2022, at the earliest (9). Another factor to look at is that the mining industry is still largely under-developed in the Philippines. It is estimated that only 5% of the country's mineral resources have been tapped. Certainly, from an economic point of view, it does make sense to exploit the country's available resources.
 
A History of (Deadly) Mishaps
Looking beyond the potential economic gains for the government's coffers, there are more than enough reasons to be critical of the mining industry in the Philippines. There have been several mining disasters over the past several decades all over the country that have caused the destruction of communities and ecosystems. The most prominent mining disaster in the history of the country is the Marcopper incident in Marinduque, an island southeast of Manila, in 1996. Acid rock drainage, high sediment loads, and tailings from the mine operated by the Marcopper Mining Corporation seeped into the Mogpog and Boac rivers and further affected nearby beaches and the ocean (10). To this day, 25 years later, communities continue to suffer from health issues linked to the pollution caused by the disaster and are still seeking financial compensation and justice in court (11).  
More recently, in January 2021 President Duterte called for a full stop on all mining operations on Tumbagaan Island in the south of the Philippines due to the area being "devastated" and having already been "mined out" for nickel (12).
The Philippines is considered one of the deadliest countries for environmentalists, and its mining industry has a long history of being connected to human rights violations. In 2019, for example, the country had the most mining-related killings of environmentalists worldwide (13). Meanwhile in 2020, the United Nations Human Rights Council's report on the Philippines points to private mining companies playing a role in the violation of indigenous peoples' human rights (14).
Mining, Climate Change and Juan dela Cruz
The Philippines is considered one of the most vulnerable countries to the effects of climate change. For the archipelagic country the rise in temperature has brought about an increase in frequency of extreme weather events (typhoons/cyclones), extreme rainfall, and sea level rise. The effects are devastating. On average, between 1999 and 2018, more than 800 Filipinos died every year from the effects of climate change (15).
Accordingly, in the last few years, climate change resilience has become a persistent topic of discussion in Philippine society. One argument that has not gained enough traction though is the concept that intact ecosystems offer significant protection against the impact of climate change, and thus could contribute to building up community resilience (16). Whether it be coral reefs reducing wave energy, or forests that protect against floods and storms, ecosystems naturally provide protection against a wide range of climate change effects, and the better the state of the environment the more society will benefit from it. More awareness needs to be raised that nature-based solutions are readily available. There are of course other ways to build up resilience such as investing in infrastructure, but this would require a significant amount of financial investment. Now the inverse is also true – the more compromised an ecosystem is, the less protection it offers, and the more vulnerable communities become. This is a crucial point since mining, i.e. the extraction of materials from the Earth, essentially entails compromising the natural state of the environment where it occurs. This means that mining inherently makes communities more vulnerable to climate change.
Another aspect to consider is that a lot of mining in the Philippines occurs in forested areas. Forests happen to play a crucial role in the fight against climate change as they regulate the climate and store carbon dioxide (17). This carbon storage function of forests contributes to curbing further climate change by reducing the amount of greenhouse gas emissions in the atmosphere.
It is estimated that global temperatures have so far risen by around 1.0°C compared to pre-industrial levels, but this could reach 1.5°C in the coming decades (18). It is predicted that without global action whatever effects people are experiencing now will only get worse. This is something that Filipinos need to keep in mind. The past few years have brought about extreme typhoons that cost the Philippine government extensive resources, and communities the loss of homes, livelihoods, and lives. Apart from the effort needed for evacuation and rescue, the rehabilitation and reconstruction of affected areas also entail significant resources and take several years to complete. No other disaster can demonstrate this better than typhoon Haiyan which affected the central regions of the Philippines in November 2013. It is regarded as one of the most powerful typhoons ever recorded with wind speeds of up to 275 kph. It is estimated that over 6,300 people died and over 4 million were displaced. The total financial cost needed for rehabilitation and reconstruction was estimated at 1.7 billion Euros (19).  
Now more than ever, the Philippines needs to raise awareness on the importance of the environment and recognize the wide range of services it inherently offers. Aside from the aforementioned benefits, forests are also essential for the regulation of water and soil, provision of fuelwood, offer recreation, and are a part of many communities' cultural heritage. Other ecosystems offer a multitude of different benefits as well.  
A Chance for Change
There is no doubt that the Philippines is in need of economic development especially when considering the consequences of the pandemic. President Duterte's reversal on his stance on mining is a step in the wrong direction. With this, he has missed an opportunity to build a better, more sustainable future for the common Filipino. With other countries adapting to climate change and adjusting their development plans accordingly, this reversal can be considered as a short-sighted regression that will end up costing the most marginalized and vulnerable groups of Philippine society. Communities are still reeling from the mining-related human rights violations and environmental damage from decades ago. Moreover, each year, the country experiences extreme weather conditions, whether it be extreme heat, devastating typhoons or a myriad of others calamities.
Considering the accelerating onset of climate change and given the knowledge of how valuable the environment is to combat its effects, it can be inferred that for the Philippines, the economic benefits of mining are rendered mute by its social and environmental drawbacks. The country should look to move forward and realize that the long-term benefits that a fully functioning and intact environment offer far outweigh the short-term economic gains.
The upcoming election in May 2022 is crucial. Aspiring candidates are already politically jousting within their respective parties, trying to position themselves for the election. For voters , there are many political, economic, and social issues to consider, and historically, the environment has always taken a backseat to everything else. However, due to the urgency of the global climate crisis, people should look closely at each candidate's stance not just on mining, but on ecology and natural resources management in general, and consider the long-term implications of today's actions. For reference, voters can look at the Philippines' National Climate Change Action Plan, and Nationally Determined Contributions to the Paris Agreement to see some of the blueprints the government already has in place. What is lacking now, however, are leaders who have the will to support the implementation of these plans to make the Philippines more climate resilient, and the vision to see the crucial role that the environment plays in this. 
__
Gino Garcia is a research fellow at the Eberswalde University for Sustainable Development, Brandenburg, Germany. His research areas cover climate, environment and energy, biofuels, renewables, resource conservation and food security. He holds MSc in Global Change Management from Eberswalde University for Sustainable Development which was supported by Heinrich Böll Stiftung Scholarships, and BA in European Languages (German) and BSc in Industrial Engineering, both from University of the Philippines, Diliman. Gino speaks Filipino, Visayan, English, German, and Italian.
The views expressed in this article are not necessarily those of Heinrich Böll Stiftung.
References:
(1) Cordero, Ted. (2021): Miners group lauds lifting of 9-year ban on new mining deals. GMA News Online. URL: https://www.gmanetwork.com/news/money/companies/783846/miners-group-lau…
(2) Delin, Paul John Nieves. (2021): Lifting ban on new mining projects: another incompetent COVID-19 response from the government. Alyansa Tigil Mina. URL: https://www.alyansatigilmina.net/single-post/press-release-executive-order-130-only-serves-business-interests-of-few-not-the-filipino-people
(3) President of the Philippines. (2021): Executive Order No. 130. Malacañan Palace. URL: https://www.officialgazette.gov.ph/downloads/2021/04apr/20210414-EO-130-RRD.pdf
(4) Mayuga, Jonathan L. (2021): New mining projects won't adversely affect environment, DENR chief says. Business Mirror. URL: https://businessmirror.com.ph/2021/04/22/new-mining-projects-wont-adversely-affect-environment-denr-chief-says/
(5) Mineral Economics, Information and Publication Division. (2021): Draft IRR of EO 130 Presented to Stakeholders in a Consultative Meeting. Mines and Geosciences Bureau. URL: https://mgb.gov.ph/2015-05-13-02-02-11/mgb-news/978-draft-irr-of-eo-130-presented-to-stakeholders-in-a-consultative-meeting.
(6) Duterte, Rodrigo Roa. (2016): Rodrigo Roa Duterte, First State of the Nation Address, July 25, 2016. Official Gazette. URL: https://www.officialgazette.gov.ph/2016/07/25/rodrigo-roa-duterte-first…
(7) Duterte, Rodrigo Roa. (2017): Rodrigo Roa Duterte, Second State of the Nation Address, July 24, 2017. Official Gazette. URL: https://www.officialgazette.gov.ph/2017/07/24/rodrigo-roa-duterte-second-state-of-the-nation-address-july-24-2017/
(8) Aljazeera.com. (2021): Philippine economy shrank at record pace in 2020, outlook gloomy. Al Jazeera. URL: https://www.aljazeera.com/economy/2021/1/28/philippine-economy-shrank-a…
(9) Aljazeera.com. (2021): COVID-hit Philippines economy shrinks more than expected. Al Jazeera. URL: https://www.aljazeera.com/economy/2021/5/11/covid-hit-philippines-economy-shrinks-more-than-expected
(10) Plumlee, Geoffrey S.; Morton, Robert A.; Boyle, Terence P.; Medlin, Jack H.; Centeno,  José A. (2000): An Overview of Mining-Related Environmental and Human Health Issues, Marinduque Island, Philippines: Observations from a Joint U.S. Geological Survey – Armed Forces Institute of Pathology Reconnaissance Field Evaluation, May 12-19, 2000. United States Geological Survey.
(11) Dizon, Nikko. (2019): The Marcopper disaster: A tragedy that continues in people's veins. ABS CBN News. URL: https://news.abs-cbn.com/spotlight/04/04/19/the-marcopper-disaster-a-tragedy-that-continues-in-peoples-veins
(12) Reuters.com. (2021): Philippines' Duterte stops mining on 'devastated' southern island. Reuters. URL: https://www.reuters.com/article/us-philippines-mining-idUSKBN29H1H4
(13) Global Witness (2020): Defending Tomorrow. Global Witness. URL: https://www.globalwitness.org/en/campaigns/environmental-activists/defending-tomorrow/
(14) Human Rights Council. (2020): Situation of human rights in the Philippines. United Nations General Assembly. URL: https://undocs.org/en/A/HRC/44/22
(15) Eckstein, David, Künzel, Vera, Schäfer, Laura, Winges, Maik. (2020): Global Climate Risk Index 2020. Germanwatch. URL: https://germanwatch.org/sites/default/files/20-2-01e%20Global%20Climate%20Risk%20Index%202020_14.pdf
 (16) Martin, Tara G., Watson, James E. M. (2016): Intact ecosystems provide best defence against climate change. Nature Climate Change. URL: https://www.researchgate.net/publication/292188053_Intact_ecosystems_provide_best_defence_against_climate_change.
(17) IUCN. (2021): Forests and Climate Change. International Union for Conservation of Nature. URL: https://www.iucn.org/sites/dev/files/forests_and_climate_change_issues_brief_2021.pdf 
(18) IPCC. (2018): Special Report: Global Warming of 1.5 ºC. Intergovernmental Panel on Climate Change. URL: https://www.ipcc.ch/site/assets/uploads/sites/2/2019/06/SR15_Headline-statements.pdf
(19) National Disaster Risk Reduction and Management Council. Final Report on the Effects of Typhoon Yolanda "Haiyan". URL: https://ndrrmc.gov.ph/attachments/article/1329/FINAL_REPORT_re_Effects_of_Typhoon_YOLANDA_(HAIYAN)_06-09NOV2013.pdf