Article
COVID-19 has dealt multiple blows to the community of Tanjung Kupang, once popular with visitors from nearby Singapore and Johor Bahru for its seafood. Initial COVID-19 cases came in via the area's factories, and growing coastal development and reclamation alongside climate change impacts have significantly limited fishing volumes. The Sea Warriors' Market, a local initiative which strengthens fishermen incomes, has been severely interrupted by coronavirus, and people have little choice but to be resilient and creative in adjusting to their challenging circumstances.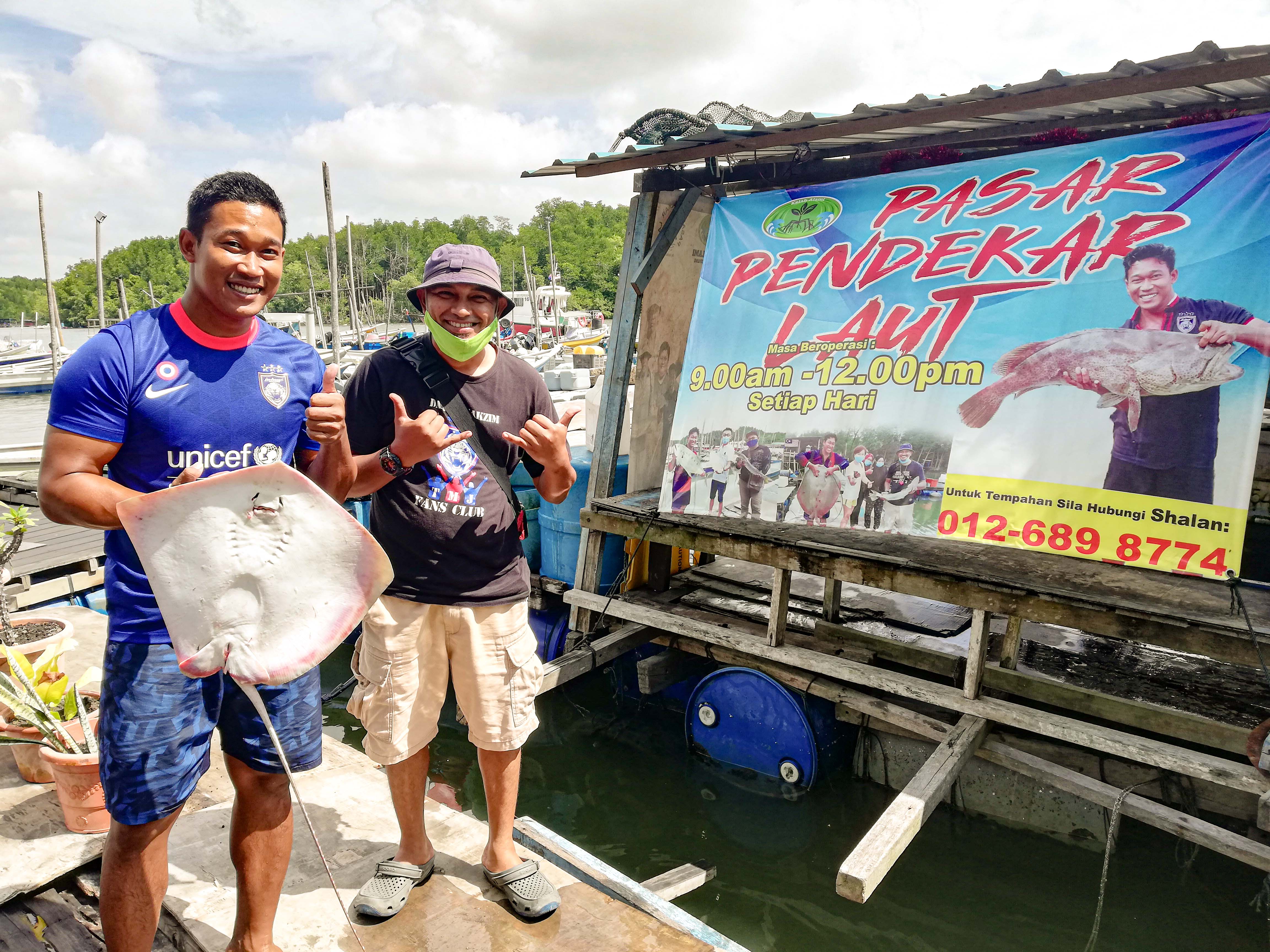 In the southwestern corner of the Tebrau Strait (also known as the Johor Strait), a string of fishing villages under the Tanjung Kupang subdistrict has been hit hard by COVID-19. As of mid-August 2021, infection numbers for the area is reported to be more than 500 cases, with reports of ambulances going into the villages every day to remove COVID-19 positive patients.
It was a shock to the residents of this area who had initially been somewhat disbelieving of the virus, its dangers and the necessity of vaccines.[1] The area has now had its first few COVID-19 related deaths.
This community is emblematic of many other rural fishing communities across Malaysia.[2] It is about 22 km from the nearest town of Gelang Patah, more than double the 10 km Movement Control Order (MCO) limit imposed on the country given rising daily infection numbers, and with police roadblocks set up at the entry points to that town.
With the Johor–Singapore borders closed, not only did they lose Singaporean clientele, but they also lost restaurant buyers who served Singaporean tourists. During the first MCO in March 2020, all restaurants and food and beverage (F&B) outlets had to close, along with all other microbusinesses and factories.
Many in the Tanjung Kupang subdistrict work in factories, or as cleaners in Johor Bahru and Singapore. The COVID-19 induced closures meant that factory, services industry and F&B daily-paid workers lost their incomes, pop-up food stalls were forced to close, and some small and medium businesses closed down completely. Those who used to work in Singapore were stranded.[3]
More than a year later, under MCO 3.0 (and now renamed Phase 1), factories can function, but this is what originally brought COVID-19 into this otherwise insulated community. Increasing coastal development and reclamation as well as climate change impacts have drastically reduced fish landing volumes. Many of the younger generation have abandoned fishing as a source of livelihood and transitioned into working in factories, at the nearby port and the surrounding housing and resort developments. Many women also supplement their families' incomes by working as cleaners in these places.
The current wave of coronavirus infections in the subdistrict all originated from places of work: mainly factories and the port, and then it spread to infect others. In some cases, entire families were taken away for quarantine in official facilities, while others were told to isolate at home. 
A community with an embattled past
The residents here are not unfamiliar with struggle and difficulty. Local oral history describes their existence as a fishing and trading community for more than 150 years. A mix of Malay and Chinese locals, many of the Chinese were murdered in the Sook Ching massacres of 1942. Those who remain today are the descendants of those who were hidden by Malay neighbors. Today's fishermen are of both Malay and Chinese descent.
In December 1977, a Malaysian Airline System (MAS) plane crashed on their shores for reasons still unknown today. Given the difficulties of reaching the human remains at the time, it was the villagers who were first on the scene, but no one could be saved. Ironically, the accident spurred the building of the first tarred roads into the subdistrict.
Since then, segments of the community have been periodically displaced or resettled as a result of the swift urbanization all around the subdistrict. Not only did this result in socioeconomic disruption, but it also affected the health of their waters. Given the narrowness of the Tebrau Strait, development on the Singapore side added to this deterioration.
In spite of this, however, the community managed to eke out a living, many selling their catch and produce to middlemen and wholesalers, and then slowly evolving to venture beyond village borders as the younger generation sought jobs elsewhere.
Mobilizing for a better future: the Sea Warriors' Market
Before the onslaught of COVID-19, one such returnee from a 3-year stint in Kuala Lumpur, Shalan Jum'at, realised that the fishermen were being paid far less than the actual value of their catch.[4] Middlemen were earning between RM 10–30 (USD 2–6) for every kilo of catch sold, while fishermen were only earning between 30–50% of the seafood's sales value. He tried to negotiate to increase fishermen's earnings but failed to improve conditions. He thus decided to set up the Sea Warriors' Market (Pasar Pendekar Laut).[5]
The idea behind this initiative was to ensure a fair price is paid to fishermen, bypassing the middleman by selling directly to the consumers or restaurants. At least 85% of the sale price went to the fishermen, while the remaining earnings covered the cost of ice and to pay fishermen who helped at the market after they returned from sea. Now fishermen earn twice what they used to, and can earn additional income, should they need it, by working at the market.
Shalan also supported the fishermen with boat and engine use and repairs, ensured that the craft of net-making was learnt by younger fishermen, and nurtured a tight community that helped each other with net replacements, boat repairs (and sometimes rescue) and other needs. He also ensured that petrol was always available for use. Fishermen then pay back the cost from the day's earnings. This enabled them to go to sea even though they might have had a bad day out. In the past, a few days with low catch meant that fishermen had no money to buy petrol, deepening their rut.
Malaysia's fishermen are mostly in the bottom 40 economic percentile (B40) and many struggle to have cash in hand. Proof of the market's effectiveness can be seen in the number of fishermen in the team. Shalan began with only three sending their catch to him; today there are forty. It is also clear that the fishermen are now able to save money, as many now have their own nets and some have bought their own boats and engines.
The market has also developed a sustainable fisheries program to ensure that endangered species such as  estuary eagle and shovelnose rays, and myriad species of sharks are released when unintentionally hooked or netted as bycatch. A token amount is paid for the release, and the fishermen report estimated fish size, weight and location, as well as take photos and video footage where possible. They are also involved in local marine species and habitat studies, reporting on sightings of dugongs, turtles, seahorses and the state of seagrass habitats. They are, after all, local marine habitat experts, and they now use their knowledge to report citizen science data that will be used for a community-led multi-stakeholder habitat management action plan.
Another key aspect of the Sea Warriors' Market is consumer education. Customers are taught about species seasonality, fair trade and pricing, as well as encouraged to value the craft, skills and knowledge that the fishermen have, and the risks they take to get the seafood. It is through this understanding and appreciation for the local fishing heritage that ensures a fair price for high-quality, artisanal and sustainably-caught chemical-free seafood. Customers then spread the word, ensuring that the market has a constant flow of hungry clientele.
Under Shalan's leadership, this intrepid group have also found their voice, and are working to overcome cronyism and the village hierarchy to ensure that they have access to financial and other aid provided by the government to all fishing communities. Much of this is often siphoned off to favored entities, and those who need it the most are often excluded. While there are larger systemic problems that thwart fully transparent and fair distribution of assistance, this is good progress within the constraints of the existing power structure. Prior to this, the fishermen had no voice.
Overcoming the COVID-19 calamity and signs of climate change
The arrival of COVID-19 halted the market's growing success. The lockdown imposed in March 2020 prevented customers from reaching the market, just when the catch was unusually bountiful. Fish markets across Malaysia were dumping fish for lack of buyers, and initially it was difficult to understand and negotiate movement restrictions.
In order to ensure that the fishermen continued to have an income and prevent fish wastage, the Sea Warrior's Market put out a call for donations under the Big Fish Bailout scheme. Money raised paid the fishermen for their catch (albeit at reduced prices), and the fish was sent to the urban poor in Johor Bahru, as well as to the homeless and welfare homes. Between March and June 2020, about MYR 90,000 (approx. just under USD 20,000) went towards the fishermen's earnings, which in turn provided 2,255 individuals or families with food during a particularly difficult time.
As the pandemic wore on, and myriad MCO iterations were imposed, sales and customers fluctuated like the tides. Shalan then decided to open a food stall (Warung Citarasa Tanjung Kupang) next to the jetty to help local women earn supplementary incomes, preserve traditional village cuisine and encourage better seafood sales as customers could have their purchase cooked at the food stall. This was also a success, with many customers returning to cater food or host large gatherings there. However, even tighter restrictions imposed in 2021 saw all of this slow down.
Added to that was the very visible impacts of climate change that appeared in early 2021. Between January and March 2021, there was suddenly a drop in catch. Fishermen heading out to sea returned with only 3–4 crabs, prawns or fish. There was just nothing to sell. On top of the erratic weather, the fishermen reported cooler waters, which they felt affected fish movement. Water currents and winds had also changed. Given that nearby coastal developments had to come to a standstill due to COVID-19, this seemed to be clear manifestation of climate change. This time the fishermen had to scrape by with the little that they could earn, many accumulating petrol debts have yet to be repaid.
Living day-to-day and hoping for better days to come
Today the catch is a little better, but still fluctuates depending on the weather, moon and tides. Water temperatures seem to change every other day, and there is an overall decrease in catch volumes, and subsequently fishermen's incomes. As COVID-19 numbers continue to rise, and the lockdown, dining restrictions and travel limits remain, no-one knows how and when they will be able to get through this.
The erratic political situation does not help either. But for these rural communities, that matters far less than their ability to earn enough for their families. Women supplement the lack of earnings by selling all manner of products online, from soft toys to food and makeup. While pop-up and roadside food stalls are now allowed, there is only so much that can be earned. Even regular customers have tightened their belts and are unable to spend as much when there is a good catch.
As with almost everyone else across Malaysia, the fishermen of Tanjung Kupang subdistrict can now only live by the day, earning what they can in the morning to feed their families in the evening, hoping that some kind of miracle will remove the coronavirus calamity and its consequences from their lives.
__
Dr. Serina Rahman is conservation scientist, environmental anthropologist, and visiting fellow under the Malaysia Programme at ISEAS – Yusof Ishak Institute, Singapore. She found a local marine and fishery conservation group named "Kelab Alami" in Mukim Tanjung Kupang, Johor, Malaysia.  She holds PhD from Universiti Teknologi Mara, Shah Alam, Malaysia, on community empowerment and education for habitat conservation, and Master in Applied Linguistics was from the University of Wales, Cardiff, specializing in orientalism in colonial imagery.
The views expressed in this article are not necessarily those of Heinrich Böll Stiftung.
References
---