Article
Migrant workers amidst the pandemic in the Global South have gone through the same experience as those who are displaced. The health crisis has brought the plight of migrant workers to another level, in what it is considered here as 'abandonment'.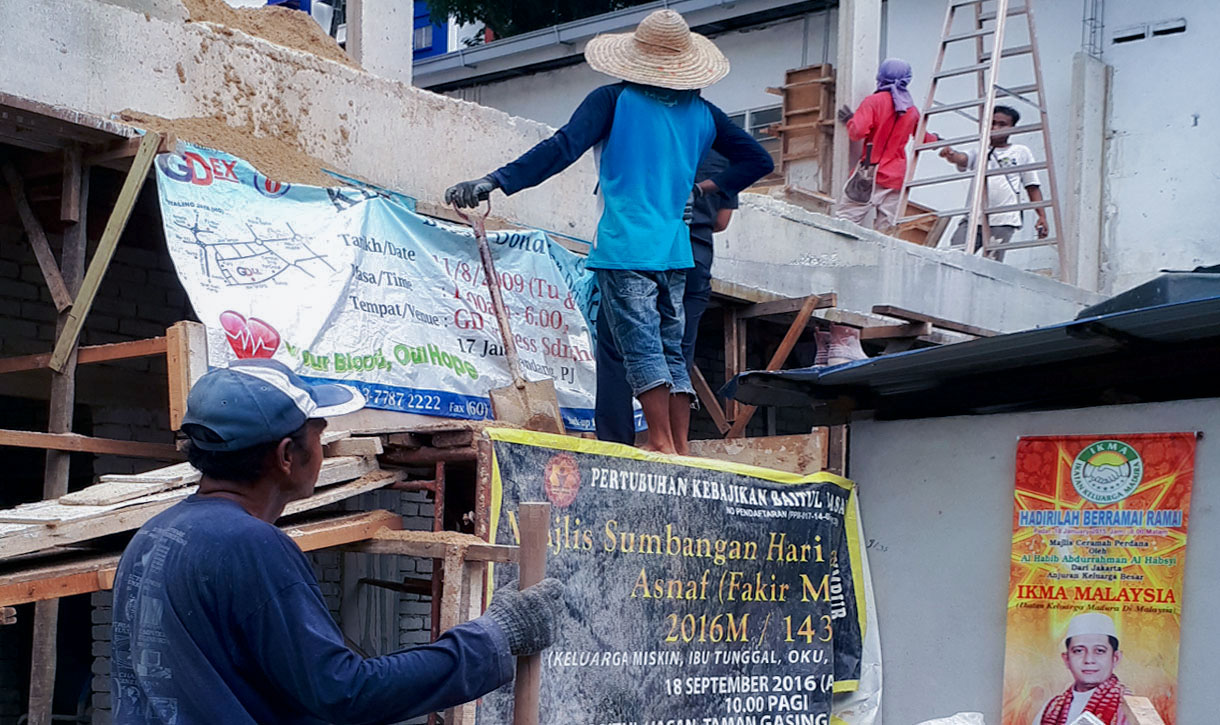 In migration studies, scholars often use the term 'displacement' to mainly describe the situation in which refugees and forced migrants became displaced from their origins. Both 'abandonment' and 'displacement' pose a similar effect on migrants, in that migrants become, to quote Elizabeth Colson, "essentially stateless at a time when crucial rights […] are based on citizenship […]".[1] In the present case, those rights are wide-ranging, but one of the most important rights is a proper access to healthcare. Through migration experience of the labourers, this article seeks to explore the new-normal for migrants' in accessing healthcare in Malaysia.
Abandoning the unfit
In the past few months, the public in major migrant-receiving countries has witnessed a diverging, often nationalistic, stance of governments on whether irregular migrants should be included in the national vaccination program. Governments have prioritized their citizens over foreigners to have free access to vaccination. Yet, the situation in Malaysia is trickier than in most places because migrant groups are found to be the largest contributor to its national Covid-19 cases. To be precise, out of 2,188 positive cases recorded nationwide on 25 November 2020, 1,511 were foreign workers employed in Top Glove, one of the world's largest personal protective equipment (PPE) industries.
The Malaysian government has shown an inconsistent response towards treating migrant workers amidst the pandemic. The government shifted between welcoming and unwelcoming foreign labourers to the country for the past three decades.[2] The erratic response was evident again in the government's reluctant stance as to whether the national healthcare system should cover the outpatient's fees incurred by foreign workers. This situation made foreign workers, especially the irregular, undocumented workers worry about their access to the vaccines.
However, the situation is much more complex than that. The government has forced employers to regularly test their workers and to improve their accommodation. Dr Farhan Rusli, Director of the Selangor Task Force Operation for Covid-19 spoke to G25 Malaysia, a Malaysian civil society group, saying that business entities showed a diverging response that indicates a lack of financial capacity to do so. For smaller industries, such diverging responses have contributed to a far more constraining situation for workers. Agus Purwanto, an Indonesian construction worker says that many of his co-workers had to pay for themselves to take the periodic and mandatory antigen tests before entering construction sites. And some employers cut the salaries of their workers due the recession.
According to Binti Rosidah, an Indonesian domestic worker and a member of Persatuan Pekerja Rumah Tangga Indonesia Migran (Association of Indonesian Migrant Domestic Workers) or Pertimig, working permit holders like her would be given the vaccine for free, but she was still confused about the process. She could not imagine a more challenging way for irregular migrants who usually rely on informal social support from their respective hometown networks. Unfortunately, vaccines are not freely available, which makes it difficult for unregistered residents to have access to them. Moreover, the vaccination registration through mobile application, MySejahtera, only allows applicants to sign up with valid identity card. Another obstacle for undocumented workers.
According to Agus, a group of construction workers was directly taken into isolation by their employers after their antigen test had indicated a positive result.  No PCR- swab was made to verify a more accurate result. He said that once workers are taken to an isolation hospital, their fate rests upon the authorities.
After experiencing the government's massive crackdown on migrant worker's accommodations to search for positive cases, the workers felt intimidated and lost trust in any official vaccine programs. There has been a growing fear that migrant workers, regardless of their legal status, might end up being deported by the authorities.
Workplace dynamics
Sumiyati (name changed by author) has been an undocumented worker for several years after her domestic worker permit had expired. Due to the high demand for domestic workers in Malaysia, despite being an undocumented worker she managed to find various jobs. In an already weak position, the pandemic exposed Sumiyati and others like her, to even more risks and made her even more vulnerable to traumatizing experiences of exploitation, abandonment, scams and violence.
The government's unclear and erratic strategy for mitigating the impact of the crisis has given way to a more decentralized strategy. This includes allowing business managers to adapt and control the impact of such uncertainty.[3] Faced with economic contraction, more businesses saw themselves forced to abandon workers, such as Sumiyati's case above. More specifically, this took place after the government started to penalise any of its nationals who employ irregular migrants.
Already before the pandemic it was difficult to assess the number of migrants in Malaysia. With the pandemic the number of undocumented migrants might have shot up a lot more and getting an overview might be even harder.
Immobility and return
One of the key features of the current epidemic-linked migration was the phenomenon of 'reversed migration', the return of people who were severely affected by the pandemic-triggered economic crisis.[4] As workers learned that cities could no longer offer them a stable income, many of them opted for a return to their origins. While 'willingness to return' has been the precondition of labourer migration in countries like Malaysia, which makes 'return' a common phenomenon, the pandemic has further affected migrant workers' attitude towards their potential return.
On one hand, migrants who returned to their home countries before the lockdown started, lost their jobs. Bureaucratic procedures for re-entry, costly mandatory quarantine and expired work permit create further uncertainty and insecurities. On the other hand, the workers who chose to stay in Malaysia are still dealing with restrictive measures in the workplace, such as salary cuts, increased working hours, mandatory Covid-19 tests, and risks of being deported. At least, they might have kept their jobs and some form of financial security, but it comes with high social and emotional costs of not seeing their families at home, as restrictions make visits almost impossible. In other words, migrant workers have to choose either their job or their families.
Amidst the immobility, the government has ostensibly implemented repatriation and regularisation program for overstayed migrants in Malaysia. In this program, the government expects to collect at least 90 million ringgits (USD 22 million) from applicants while calling it a program for 'reviv[ing] the economy that has been affected by COVID-19'.
The pandemic has exposed migrant workers, especially those of female and undocumented workers, to a situation called abandonment. While precarious and dangerous conditions are what migrants cope with in general already, the crisis has certainly amplified the challenges and also put more pressure on the migration infrastructure, sending countries, remittance flows and all stakeholders relying on migration.
At the regional level, Adrian Pereira from the North-South Initiative has called for assistance from the relevant embassies or representatives from migrant-sending countries to reach out to their nationals who became irregular in Malaysia and find ways to vaccinate them. Such an initiative was opted for due to the lack of political will in the local setting and doubts as to whether the vaccines will be accessible to all types of migrants. Pereira further demands that vaccination programs should be independent from immigration politics in times of crisis.
Furthermore, sending countries should anticipate another wave of returns, should the situation in Malaysia remain inhospitable to all types of migrants. Considering remittance for sending countries, governments should also initiate an action plan to reach out to their citizens who work as temporary labourers. For instance, prioritizing their migrating citizens in vaccine programs could be a strategy to accommodate migrants´ concerns.
REFERENCES
---