Graphics
We talked with Jatra Palepati, anti-cement activist and one of the Kendeng community's graphic designers since 2005 to publish five graphic designs on the cause of Save Kendeng Mountains.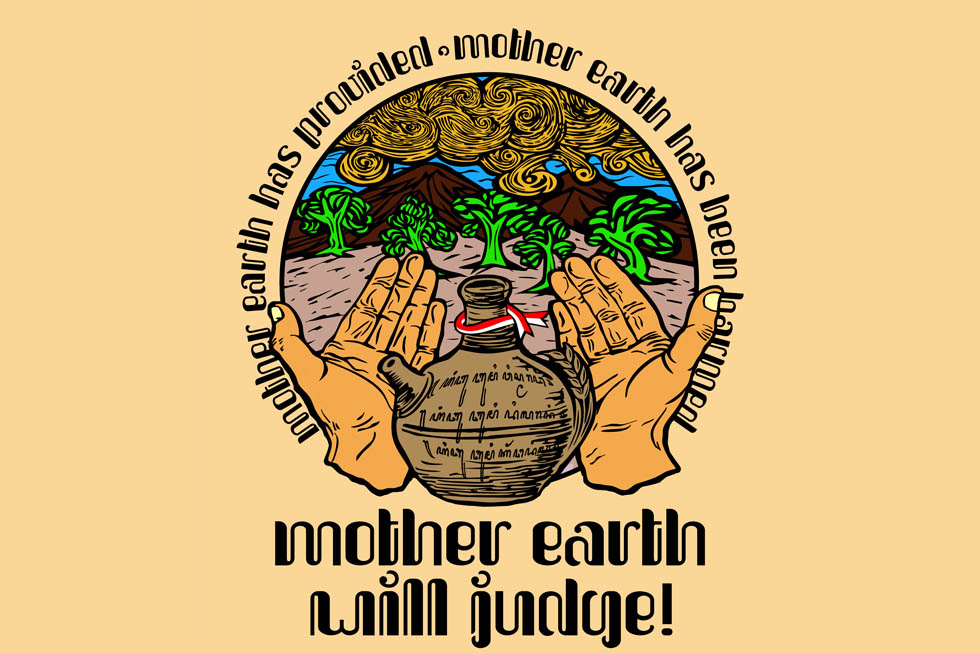 Jatra is based in Pati, Central Java and has been supporting the Pro-Environment/Save Kendeng Mountains Movement in Central Java, Indonesia through graphic designs, which is used for campaign materials such as T-Shirt, poster, banner, and communication materials together with JM-PPK (Jaringan Masyarakat Peduli Pegunungan Kendeng) / Community Network - Concerned for Kendeng Mountains.
Jatra is also active in Punk community and together they have managed to include their supports and collaboration in local and national through music gig, long-march, protest, visual communication, graphic design as media of struggle for environmental justice in Kendeng.
His graphic designs try to extend the message from local affected communities to communicate a clear call to Save Kendeng Mountains which is a shared responsibility and would call for a greater collaboration through solidarities in Indonesia and Germany as well as at the international level.
Click here to download higher resolution (3179 × 4000 pixels - 11 MB)
JAGA KENDENG / GUARD KENDENG
Damages to the balance of the environmental and ecosystem through changes in land use is the main cause of the flood disaster in South Pati, Central Java which is felt to worsen and spread wider every year. By combining the processed images from several actions of the local affected communities, a woman farmer is seen standing with a sign that reads "Flood is not Fate" among thousands of hectares of flooded rice fields, this is a sign that the nature is getting angrier.
Meanwhile, we are currently facing the impact of the COVID-19 pandemic and it is not yet known when it will end. Food is among the main survival in meeting our needs. So the current flood disaster that is currently being experienced is not just fate, but an event that can be avoided because the cause is the behavior of greedy individuals who ignore environmental sustainability and the fate of future of our children and grandchildren.
Processed vector graphics from original photos using Adobe Photoshop & Corel applications
__
Click here to download higher resolution ( 6029 × 7087 pixels - 8 MB)
KENDI KENDENG / KENDENG'S WATER JAR
A water jar consists of soil and water. Soil or land, wherever is located is still one unity, and for water, wherever it flows, it won't stop flowing from a small district, to a bigger city to wherever country.  The Earth as the place where we as human, stand, eat, excrete. It is the very same Earth which provides sources of life for our children and grandchildren - all the living creatures animals and all trees all alike, it must be preserved.
This graphic calls to redefine the spirit of total change/transformation without turning mountains into buildings, changing forests and trees into concrete buildings, converting protected lands to be mining sites for personal wealth at the expense of farmers under the illusion of development.
In simple terms, the living ecosystem is basically very much determined by water, and vice versa, the sustainability of water is very dependent on the state of the supporting ecosystem. So that the principle of maintaining the sustainability of water and water ecosystems and using them for common life needs have to be upheld. Therefore, during several protest/demonstrations of the Kendeng Community, they handed over water jars to a number of government officials, this could be interpreted as a helping hand or an offer of solidarity too keep soil, water and also to keep thhlife. This is what often goes unnoticed.
*Vector graphic processing from the Kendeng landscape archive using Adobe Photoshop & Corel applications
__
*Click here to download higher resolution (5603 × 6641 pixels - 3.5 MB)
KENDENG MANEGES/KENDENG WILL JUDGE
It is a prayer of praise to the nature and an affirmation of an attitude to conserve the Kendeng Mountains and to preserve the environment. Like in Javanese shadow play, the final judgment here can be likened to the final or the end of human's spiritual journey before everything goes to the end of time.
Then the threat of minings makes it important for us to act, to strengthen and to place the Kendeng movement into collective actions. Because through connecting the solidarity network, it is not only valuable as a movement to reject cement investment which will have a negative impact on the Kendeng communities but it can become a means of subsistence that has been built on the basis of the mutual feeling. So to maintain the preservation of the ecosystem as a vital compound, soil and water should be forever used as the pillars of life.
* Vector graphic processing of Kendeng landscape archives using Photoshop & Corel applications
__
*Click here to download higher resolution (6720 × 6720 pixels - 5.1 MB)
SOLIDARITAS KENDENG / KENDENG'S SOLIDARITY
The impact of COVID-19 pandemic affects food supplies in cities. Farmers in the village still could supply food as long as farmlands, water supplies, the ecosystem of nature and Karst mountains are not affected by cement mining activities from corporate interest. The nature must be saved, water and land correlates to food security and supply, corporate interest can go away.
The call for solidarity to unite to save Kendeng, reaching out to local, national, and international level without seeing differences of race, religion, belief, gender, language, nor profession.
*Vector graphic processing of Kendeng landscape archives using Photoshop & Corel applications
__
*Click here to download higher resolution (4023 × 5000 pixels - 3.4 MB)
NGURIPI KENDENG / TO KEEP KENDENG LAST
The Water Jar is a container, it is indeed, the container of life. Without water and food, we as human cannot carry on with live.
A palm giving praise holding yellow straws of rice paddy as a form of gratitude, giving thanks for a succesful harvest, that food are not to be eaten alone, but to be shared and also to return it to the nature and environment. Take only what is sufficient then pay it forward so that the land will be always preserved.
Farmer's hat as a farming equipment with "TOLAK PABRIK SEMEN" Reject Cement Factory painted in black, red and white colours.  It is a call to unite, defend the homeland, let us raise the hat, join the ranks, to protest, to participate and to defend our land.
*Vector graphic processing of Kendeng landscape archives using Photoshop & Corel applications
____
Note: All graphics are free to use and licensed under Creative Commons
Attribution-NonCommercial-NoDerivatives 4.0 International (CC-BY-NC-ND 4.0)
Graphic Design and Text: Jatra Palepati