Report
The Malaysian Youth Delegation (MYD) kept the climate action momentum going in Southeast Asia this year despite the postponement of COP26 to 2021 by organising the recently concluded Malaysian Local Conference of Youth 2020 (MYLCOY2020). This was the only LCOY (an event under the auspices of the International Youth Climate Movement, YOUNGO), in Southeast Asia this year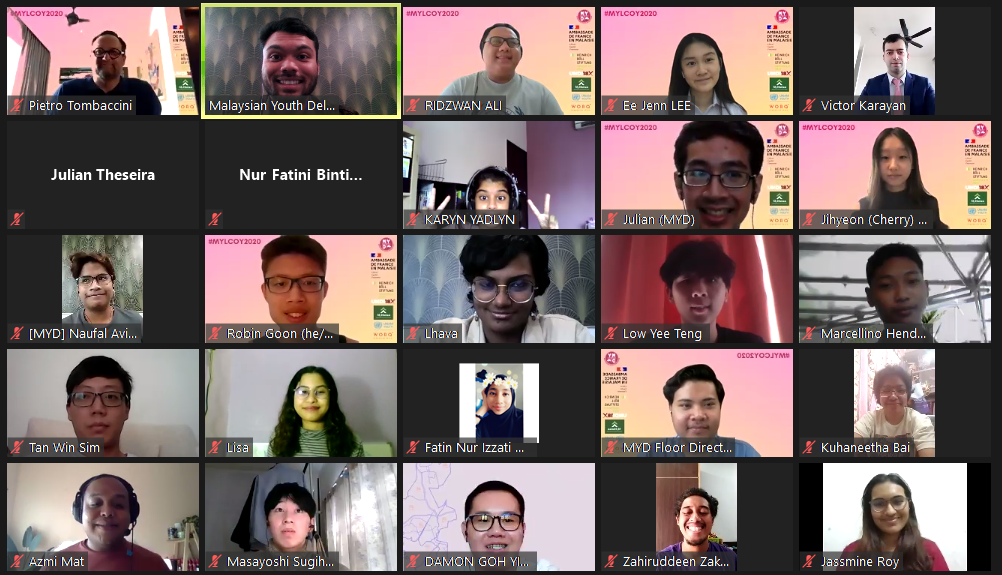 The conference was organised with generous sponsorship from the Embassy of France in Malaysia, and partnerships with the Heinrich Boell Foundation Southeast Asia Regional Office, Undi18, MyHutan, United Nations Association of Malaysia (UNAM) Youth, and WorQ Co-Working Space. The conference took place across three weekends, 28 - 29 November, 5 - 6 December, and 12 - 13 December.
The objectives of MYLCOY2020 were:
To provide a platform for Malaysian and Southeast Asian youth who are interested in climate action to connect with each other by exchanging ideas and experiences

To provide youth the opportunity to engage with climate activists, experts, and relevant stakeholders

To build the capacity of the national youth climate movements in Southeast Asia to develop innovative and effective climate solutions

To lay the foundations for a regional youth climate movement that can leverage Southeast Asia's dynamism to develop regional climate solutions

To gather inputs from Malaysian and Southeast Asian youth which will be contributed to YOUNGO and other relevant stakeholders
The constraints of the pandemic meant that MYLCOY2020 had to be organised as a virtual conference. Even though this was the first time that MYD organised a virtual LCOY, this challenge was transformed into an opportunity. MYD ran a marketing campaign that successfully attracted 670 sign-ups for MYLCOY2020 from across Southeast Asia and beyond, which exceeded the target number of sign-ups by 34%. There were even sign-ups from youth in Africa, Europe, and the Americas. This was the first time an event organised by MYD had a global reach with sign-ups from 33 countries. The conference sessions were hosted on Zoom and broadcast live on MYD's Facebook page. Average turnout for the sessions on Zoom throughout the conference was more than 100.
The theme of MYLCOY2020 was Mobilising for a Green Post COVID-19 Recovery.
This theme was conceptualised based on the following Sustainable Development Goals (SDGs):
•           SDG 7: Affordable and Clean Energy
•           SDG 8: Decent Work & Economic Growth
•           SDG 11: Sustainable Cities & Communities
•           SDG 13: Climate Action
•           SDG 14: Life below Water
•           SDG 15: Life on Land
•           SDG 16: Peace, Justice, & Strong Institutions
•           SDG 17: Partnerships for the Goals.
The conference was focused on five interdependent thematic tracks through national, regional, and global lenses: Climate Finance, Green Economy, and Green Jobs, Sustainable Cities, Local Communities, and Local Action, Nature-based Solutions, Climate Policies and Governance, ASEAN's Potential for Climate Leadership.
The first weekend of MYLCOY2020 had a national Malaysian focus. At the start of Day 1 of the conference, the Malaysian Deputy Minister of Environment and Water, The Honourable Senator Dato' Dr. Ahmad Masrizal, gave the opening keynote speech of the conference. The Honourable Senator Dato' Dr. Ahmad Masrizal stated, "The whole world is actively restoring their economies by implementing various recovery packages. Most countries have taken a 'build back better' approach by integrating aspects of sustainable development into the economic recovery. Malaysia should also take this opportunity to rebuild the country's economy based on the concept of planetary health." The keynote speech started the conference on a high note.
After the Deputy Minister's keynote speech, MYD Focal Point Lhavanya Dharmalingam gave a Climate Change 101 presentation which introduced the science of climate change and climate policy to participants. This was followed by a Sustainable Cities Stakeholder Engagement session during which participants had the opportunity to engage with Mdm. Norliza Hashim, CEO of Urbanice, a government think tank about sustainable cities, Sofia Castelo, Lead of the Resilience Community of Practice at ThinkCity (a think and do tank focused on the future of cities), and Najihan Khalid from the Malaysian Institute of Planners. Day 1 of MYLCOY2020 concluded with an Evidence-based Climate Policymaking Panel. The panellists Bryan Yong from MYD, Jasmin Irisha from UNICEF-Malaysia, and Affan Nasaruddin from Water Warriors University of Malaya, shared about the importance of gathering inputs from communities on the ground to inform evidence-based climate policymaking.
Day 2 of MYLCOY2020 started with a Malaysian Youth Green Careers Panel. The panellists, Nasha Lee from UNDP Malaysia, Syaqil Suhaimi from CENERGI (a renewable energy firm), Lucy Wong from WWF Malaysia, and Emily Oi from MYD shared their inspiring stories of pursuing green careers, and encouraged participants to also pursue environmental study and career paths. The conference then continued with a Mobilising Local Communities for Climate Action panel with panellists who were all from local Malaysian environmental NGOs. Bryan Anderson (SAVE Rivers), Adzmin Fatta (Green Semporna), Amir Ahsanuddin (WWF-Malaysia), and Natasha Zulaikha (MyHutan) shared their experiences working with grassroots communities, especially those in rural areas, to further the climate and environmental agendas. MYLCOY2020 participants, who were mostly urban youths, really appreciated hearing about the engagement and mobilisation of rural communities for climate action.
The second weekend of MYLCOY2020 had a regional Southeast Asian focus. Day 3 of the conference kicked off with a panel about Multilateral Climate Action and Governance in the Association of Southeast Asian Nations (ASEAN). The panellists, Dr. Helena Varkkey from the University of Malaya, Rizky Fauzianto from the ASEAN – German Energy Programme, and Saloni Kapoor from Singapore Youth for Climate Action (SYCA) outlined the climate governance and institutional frameworks in Southeast Asia, and highlighted the challenges and opportunities for effective multilateral climate action in the region. This panel was then followed by a fireside chat with ASEAN youth climate leaders. The all-female line-up of speakers in the fireside chat, Lynn Ocharoenchai, Founder of Climate Strike Thailand, Melissa Tan, Malaysia Earth Day Ambassador, Swati Mandloi from SYCA, and Mitzi Jonelle from Youth Advocates for Climate Action Philippines (YACAP) shared inspiring stories of youth grassroots climate movements and advocacy from across Southeast Asia. The day then concluded with a Climate Policy Simulation facilitated by Reza Abedi from MYD and using the EN-ROADS Climate Change Solutions Simulator. 78 participants took part in this highly interactive session. Working in 8 breakout groups, they landed on a policy scenario that aimed to limit global temperature increase to 1.5 degrees Celsius above pre-industrial levels by 2100 using a combination of policy approaches such as increasing the energy efficiency of buildings and transport, reducing deforestation, and transitioning to vegetarian and vegan diets.
Day 4 of the conference started with a panel on Socially Just Climate Transitions in ASEAN. The panellists, Daniel Abunales from the Heinrich Boell Foundation, Dewi Candraningrum, founder of Jejer Wardon (an Indonesian feminist organisation), and Thi Ha Nguyen from Green ID Vietnam (an energy transition organisation) highlighted the intersections between climate action and social justice issues, in particular gender inequalities and women's rights. This session was followed by a panel on Nature-based Solutions (NBS) in ASEAN. The panellists, Lavanya Rama Iyer from WWF Malaysia, Dr. Lee Jo Kien from the Tropical Rainforest Conservation and Research Centre (TRCRC), Dr. Satrio Adi Wicaksono, an Indonesian climate scientist, and Kathryn Bimson from the International Union for the Conservation of Nature (IUCN) Asia spoke about how climate change and the destruction of nature were interconnected crises with grave consequences for humanity. The panellists presented NBS that could be impactful and cost-effective solutions to the aforementioned environmental crises. They also shared about how youth could be involved in NBS, which have been identified as a priority on the agenda at the upcoming COP26 next year.
The third and final weekend of MYLCOY2020 was globally oriented. Day 5 of the conference, which coincided with the 5th anniversary of adoption of the Paris Agreement at COP 21 in 2015, started with a high-level panel on International Cooperation for Climate Action. Mr. Victor Karayan from the Embassy of France in Malaysia, Mr. Muhammad Ridzwan Ali from the Ministry of Environment and Water Malaysia, and Counsellor Pietro Tombaccini from the Embassy of Italy in Malaysia spoke about their respective countries' engagements for climate action, and how France, Malaysia, and Italy cooperated with other countries internationally to find solutions to the climate crisis. This session was a valuable opportunity for the youth participants of MYLCOY2020 to directly engage with and learn from experts of international climate diplomacy. Participants then joined a Climate Journalism 101 workshop facilitated by Cherry Sung from Greenpeace Korea, Emmanuel Mirus from the ASEAN Youth Advocates Network, and Chris Wright from Climate Tracker. During the workshop, the participants learned how to craft stories and narratives to effectively advocate for international climate action.
The conference programme then continued with a Youth Assembly. The Youth Assembly was a Model United Nations (MUN) style event. Unlike a typical MUN, during a Youth Assembly participants represent themselves. The topic of the MYLCOY2020 Youth Assembly was "Mitigating the Socioeconomic Risks of Climate Change" and it was hosted on the digital tool Discord. Youth Assembly delegates were well-prepared, and drew on their learnings from MYLCOY2020 sessions as they engaged in active discussions while drafting a resolution on mitigating the socioeconomic risks of climate change.
The 6th and final day of MYLCOY2020 started with a Climate Finance panel. Rozani Osman from the World Bank Malaysia, Bernadette Victorio from Fair Finance Asia, Khairun Nisa Zabidi from UK – PACT (Partnering for Accelerated Climate Transitions), and Thiagarajan Nadeson from WWF Malaysia spoke about the financing of climate solutions and explained how the transformation of the financial system is necessary in order to achieve international climate action goals. MYLCOY2020 participants appreciated learning about the technical subject of climate finance from experts who explained the topic in an accessible and clear manner.
It was then time to wrap-up the Youth Assembly. An Expert Witness, Mr. Nithi Nesadurai, Regional Coordinator of the Climate Action Network Southeast Asia (CANSEA), provided detailed feedback on the draft resolution. Youth Assembly delegates also had the opportunity to ask questions directly to Mr. Nithi Nesadurai. Using the feedback and clarifications from Mr. Nithi Nesadurai, Youth Assembly delegates successfully passed a resolution on mitigating the socioeconomic risks of climate change. The resolution recommended many actions such as agricultural technology exchanges between developed and developing countries to boost farming productivity, establishing a carbon Cap and Trade system in ASEAN countries, incentivising renewable energy research and development, and fostering collaboration on climate education among Southeast Asian countries. This resolution will be submitted to YOUNGO and other relevant stakeholders as an outcome of MYLCOY2020 which gathered inputs directly from the youth.
After the passage of the Youth Assembly Resolution, it was time for the Closing Session of MYLCOY2020. Mr. Gilles Barrier, Deputy Head of Mission of the Embassy of France in Malaysia, gave a closing statement on behalf of the Embassy. Mr. Gilles Barrier stated, "We need to improve on our pledges, and we need to do it now. What is at stake is very simple - either we will leave a liveable planet for our children or we will not. We must all accelerate and show our fellow citizens that we have not forgotten the promises made in Paris 5 years ago." This stirring call to action inspired MYLCOY2020 participants who left the conference motivated to mobilise for a green post COVID-19 recovery.
The objectives of MYLCOY2020 were successfully achieved by the end of the conference. The conference brought together Malaysian and Southeast Asian youths who had the chance to share with each other about climate action. The exchanges are continuing even after the conference on the Youth Assembly Discord Server, which has been repurposed to enable participants to keep in touch. Youths also had the chance to engage directly with climate activists, experts from technical fields such as NBS and climate finance, and stakeholders such as the Ministry of Environment and Water Malaysia. Participants of MYLCOY2020 also further built their capacity to develop effective and innovative climate solutions, as evidenced by the ideas generated during the Climate Policy Simulation and Youth Assembly. Furthermore, according to feedback gathered from conference participants, the vast majority also felt they gained new knowledge and became more familiar with the various topics covered at MYLCOY2020. The foundations of a regional youth climate movement have also been laid as the relationships established during MYLCOY2020 will continue to grow after the conference. Since the conference, MYD has received invitations to collaborate with other organisations in Southeast Asia. Finally, inputs gathered directly from youths during the Youth Assembly about mitigating the socio-economic impacts of climate change will be submitted to various stakeholders such as YOUNGO.
Having successfully concluded MYLCOY2020, MYD looks forward to the year ahead with the hope that Malaysian and Southeast Asian youths who participated in the conference are now inspired and motivated to mobilise for a green post COVID-19 recovery for Malaysia and Southeast Asia.
__
Visit <https://sites.google.com/view/mylcoy2020/> to access documents and materials.