Event
The Local Conference of Youth (LCOY) is an event under the umbrella of YOUNGO, the official youth constituency at the United Nations Framework Convention on Climate Change (UNFCCC). LCOY represents a national (local) version of the International Conference of Youth (COY). Since 2005, in order to amplify their voices, COY has been gathering youth from all around the world before the annual UN Climate Conference — the Conference of Parties (COP).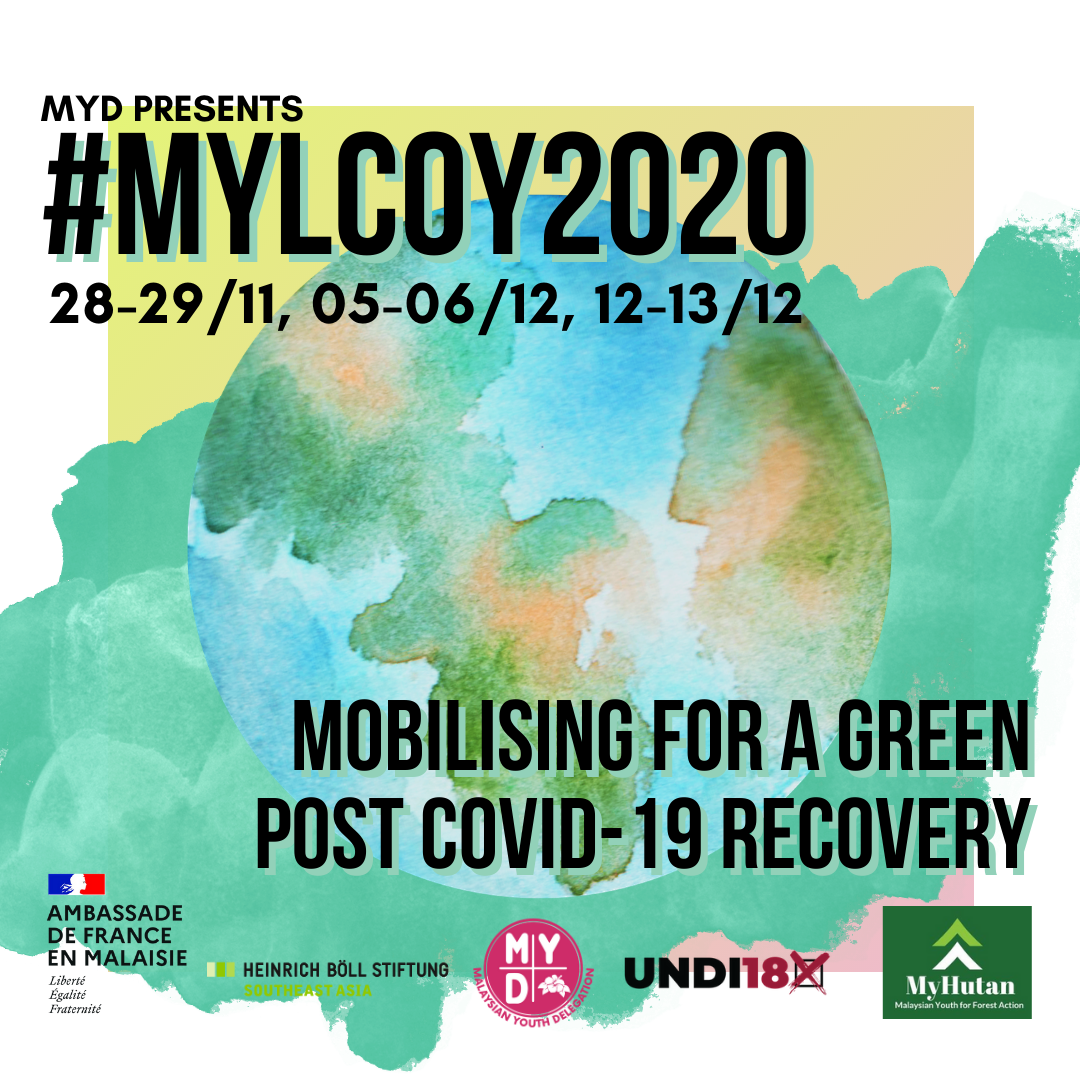 COY is organised by the International Youth Climate Movement (YOUNGO). YOUNGO, established in 2009, is an international network of youth organisations that collectively aim to inspire, empower, and mobilise young people to take positive action on climate change. Youth representation is needed to influence key decisions on climate action as youths will inherit the consequences of today's choices.
Globally, there is growing climate consciousness and activism among young people as exemplified by the global school strikes. In Malaysia, a YouGov poll of 1101 young Malaysians commissioned by The Star newspaper in 2019 found that 64% of Malaysian youths indicated that they are concerned about climate change. Many also stated that they had either experienced or are aware of the effects of climate change.
Despite the adversity of the pandemic, passionate Malaysian youths are continuing to mobilise virtually for the climate this year. The Malaysian Youth Delegation (MYD), Malaysia's only youth led climate policy and diplomacy organisation, has organised a series of public virtual presentations about climate change in collaboration with the National University of Malaysia (Universiti Kebangsaan Malaysia). MYD had also put together a climate solutions pitching series at the International Greentech and Eco Products Exhibition and Conference Malaysia 2020 (IGEM 2020 Virtual), Southeast Asia's largest trade event for green technologies and eco solutions.
As a continuation of these ongoing mobilisation efforts, MYD is organising the virtual Malaysian Local Conference of Youth 2020 (MY LCOY 2020) to provide a platform for youth who are curious or concerned about climate change. MY LCOY 2020, which is now open for registration, will be an opportunity for youth to connect with each other by exchanging ideas and experiences, and to engage with climate activists, experts, and relevant stakeholders. MY LCOY 2020 will bring the spirit of COY to Malaysia to build the capacity of the national youth climate movement in developing innovative and effective climate solutions.
Furthermore, through its regional track, MY LCOY 2020 also seeks to foster understanding among Malaysian youth and their Southeast Asian peers about the importance of regional cooperation and solidarity for effective climate action. MY LCOY will build on its track record as the only LCOY in Southeast Asia that has been organised for three consecutive years to mobilise youth within the region for climate action. In doing so, MY LCOY 2020 aims to lay the foundations for a regional youth climate movement that can leverage Southeast Asia's dynamism to develop effective and innovative regional climate solutions and transform Southeast Asia from a potential victim of climate change into a climate leader.
Ultimately, MY LCOY 2020 will be a platform to gather inputs from Malaysian and Southeast Asian youth which will then be contributed to YOUNGO. These inputs will then be presented to the UNFCCC Conference of Parties and other components of the global environmental governance system.
The theme of MY LCOY 2020 is "Mobilising for a Green Post Covid-19 Recovery". The theme is conceptualised upon the following Sustainable Development Goals (SDGs):
SDG 7: Affordable and Clean Energy

SDG 8: Decent Work & Economic Growth

SDG 11: Sustainable Cities & Communities

SDG 13: Climate Action

SDG 14: Life below Water

SDG 15: Life on Land

SDG 16: Peace, Justice, & Strong Institutions

SDG 17: Partnerships for the Goals.
MY LCOY 2020 aims to cultivate climate-conscious Malaysian and Southeast Asian youths to take on future leadership roles. These future leaders will be able to lobby for and lead the much needed transformations of the economy and society in line with the 2030 Sustainable Development Agenda. This is to ensure that the post Covid-19 world is more sustainable than the world that was overturned by the pandemic. In order to mobilise youth and build their capacities to lobby for and eventually lead Malaysia and Southeast Asia's green post Covid-19 recovery, MY LCOY 2020 will focus on these five interdependent tracks through national, regional, and global lenses:
Climate Finance, Green Economy, and Green Jobs

Sustainable Cities, Local Communities, and Local Action

Nature-based Solutions

Climate Policies and Governance

ASEAN's Potential for Climate Leadership.
Climate Finance, Green Economy, and Green Jobs:
The Covid-19 pandemic has devastated the global economy, causing widespread economic misery. The World Bank has estimated that the pandemic will push an additional 88 million to 115 million people into extreme poverty this year. However, this grave economic crisis is also an opportunity for countries like Malaysia to rebuild an economy that is more environmentally sustainable as compared to the pre-pandemic economy that was heavily reliant on fossil fuels. A green economic recovery that leverages on climate finance could enable young people to pursue more meaningful and purposeful careers. At MY LCOY 2020, participants will engage with experts to explore how climate finance can enable a green post Covid-19 economic recovery. Participants will also engage with their peers in green jobs at organisations like the United Nations Development Programme (UNDP) and the Malaysian Green Technology and Climate Change Centre (MGTC) to learn about environmental career prospects.
Sustainable Cities, Local Communities, and Local Action:
As Southeast Asia is one of the most climate vulnerable regions, MY LCOY 2020 will examine issues around "Sustainable Cities, Local Communities, and Local Action" from varying perspectives. Extreme weather patterns and other consequences of climate change will make cities and communities across the region more vulnerable to loss and damage. Major cities in the region such as Jakarta and Bangkok are at risk of floods from rising sea levels. Kuala Lumpur is vulnerable to flash floods due to increased rainfall. Rural areas in Southeast Asia such as coastal villages are vulnerable to loss and damage from rising sea levels while farming communities face the risk of more severe droughts.
Proper planning and the construction of more efficient infrastructure in Southeast Asian cities can lead to a better quality of life and a lower urban carbon footprint for citizens. Mobilisation for forest conservation and restoration in rural areas also contribute towards climate change mitigation and adaptation for climate change. Local and indigenous communities are meanwhile valuable sources of wisdom to better our understanding on how to live in an environmentally sustainable manner and often at the forefront of conservation and restoration efforts. Youths can therefore achieve positive climate impact by participating in environmentally sustainable urban planning, supporting rural environmental mobilisation efforts, and learning from the wisdom of indigenous communities.
At MY LCOY 2020, youths will engage with local government stakeholders and urban planning experts from organisations such as ThinkCity (a think and do tank focused on the future of cities) and Urbanice (a think tank for sustainable cities) on how cities can become more climate friendly going forward and what roles youths can play in the low-carbon urban transition. Youths will also engage with panelists from organisations such as MyHutan (a forest advocacy organisation) and Green Empowerment (a rural sustainable development organisation) to explore how rural and indigenous communities are mobilising to build a low carbon sustainable future.
Nature-based Solutions:
Through its Nature-based Solutions track, MY LCOY 2020 will highlight the reality of the interconnected planetary crises of climate change and biodiversity loss. Climate change will result in widespread losses of lives and livelihoods and potentially render some regions of the planet unlivable for humans. Simultaneously, one species out of four on the planet is at risk of extinction by 2050 due to climate change. MY LCOY 2020 will showcase how Nature-based solutions such as the conservation and restoration of forests, land-based ecosystems, and oceans can play a key role in addressing the interconnected crises of climate change and biodiversity loss. At MY LCOY 2020, participants will discover the untapped potential of nature-based solutions from experts at WWF and other conservation organisations.
Climate Policies and Governance:
The "Climate Policies and Governance" track at MY LCOY 2020 will help youth learn on how they can contribute to shaping policies that address climate change. Effective governance is needed to resolve the climate crisis that cannot be addressed by individual actors. Youth will discover how evidence-based policies may provide a pathway towards effective climate change mitigation and adaptation.
The climate crisis is also a social justice crisis. Those in the Global South who have contributed least to climate change face the worst consequences. Climate policies and governance should therefore address the injustice of climate change and ensure a just transition where no one is left behind. At MY LCOY 2020, youths will engage with experts from the Heinrich Boell Foundation and other like-minded organisations about socially just climate transitions. Participants will also learn about how youth-led surveys can inform evidence-based climate policymaking from the ground up.
ASEAN's Potential for Climate Leadership:
Finally, MY LCOY 2020 will examine ASEAN's Potential for Climate Leadership. As of 2018, there were approximately 213 million youths in ASEAN and the youth population in the bloc is expected to peak at 220 million in 2038. Youths are change agents who can mobilise to lobby for more ambitious climate and environmental policies in ASEAN. Such youth mobilisation and activism for climate action is essential as Southeast Asia is one of the most vulnerable world regions to adverse climate change impacts.
According to the Global Climate Risk Index 2020, four out of the ten countries most affected by climate change are in ASEAN: Myanmar, the Philippines, Thailand, and Vietnam. One reason for the lack of effective regional environmental action in ASEAN is that the member states prioritise their national sovereignty, hence the bloc's traditional approach of non-interference in domestic policies including in the environmental sphere. Another factor is that ASEAN has prioritised economic development over environmental sustainability. ASEAN's reliance on fossil fuels such as coal and oil to power its economic growth and development further hinders climate action in the region.
Greater solidarity among Southeast Asian youth is needed to effectively pressure regional leaders to take action to address climate change and ensure the region will remain livable for youths and the future generations. Dynamic and tech-savvy ASEAN youth have the potential to generate innovative solutions for the climate crisis. At MY LCOY 2020, participants will have the opportunity to learn from experts at institutions such as the ASEAN-German Energy Programme about the challenges and opportunities with regard to energy transition and climate action in ASEAN. Participants will also have the chance to connect with and learn from climate activists in ASEAN. The youth can thus spearhead ASEAN's transformation from a potential victim of climate change into a leader of effective climate action.
MYD calls on youth from Malaysia and across Southeast Asia to take up the opportunity to learn about climate change and climate action by participating in MY LCOY 2020. The movement restrictions necessitated by the pandemic have been transformed into an opportunity to use digital platforms to bring together youths, activists, and experts from across Southeast Asia at the first ever virtual LCOY that MYD is hosting. MY LCOY 2020 will be held across three weekends, 28-29 November, 5-6 December, 12-13 December and will be open to participants aged 18-35 years old (YOUNGO categorisation of youth). Malaysian and Southeast Asian youth will come away from MY LCOY 2020 with the knowledge, connections, and inspiration they need to mobilise for a green post Covid-19 recovery. Interested youth can sign up for
MY LCOY 2020 here: MY LCOY 2020 Registration Form