Article
"Where did you get that?" a single mum asked me, pointing at the two loaves of Gardenia white bread in the shopping trolley I was pushing.
The new normal during Malaysia's fight to flatten the COVID-19 curve is a stranger asking you at a supermarket in a suburb in the Malaysia capital, Kuala Lumpur, where to find that hard-to-get Gardenia bread.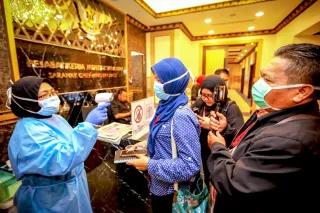 This occurred during the second week of the movement control order (MCO), Malaysia's version of a partial lockdown. Since the enforcement of the MCO on March 18, there has been a scarcity of 'Gardenia' bread despite the bakery company producing 2.2 million loaves a day for the country of 31.5 people.
Some Malaysians, who were ordered to stay at home unless they were working in essential services, indulged in panic-buying items such as bread. They also consumed more of it, as there were fewer choices for food when they stayed at home.
I too went on a panic-buying spree, purchasing in bulk Pringles potato chips, Tulip luncheon meat and Ribena drink. If I couldn't find them during the MCO, it would be the end of the world for my food-fussy six-year-old son.
Malaysians had to learn the new normal to stop the spread of the pandemic.
This was primarily focused on health guidelines around personal hygiene behaviors, Dr Jemilah Mahmood, the special adviser on public health to the Prime Minister, pointed out. The new normal was about handwashing, ensuring proper respiratory hygiene, including wearing a mask in public and keeping a safe physical distance.
The new realities that Malaysia is facing, according to the chief executive officer of the Galen Center for Health and Social Policy, Azrul Mohd Khalib, involve measures which seek to protect individuals, communities and countries from infection and manage the spread of COVID-19.
"These measures put us at a distance from those who do not live in the same household, introduce infection prevention and control intended to break the chain of transmission of this disease," he said.
The new normal that I myself observed obsessively was using a hand sanitizer or washing my hands with soap and water. For example, before I enter a supermarket to hunt for luncheon meat and bread, I will spray them with the cleaning liquid. While grocery shopping and after paying, I will use sanitizer till my hands "burnt".
In many ways, observed Dr Jemilah, the MCO was a shock to the Malaysian psyche. It essentially threw us into the deep end of the swimming pool and forced us to learn how to swim in a hurry.
Malaysians have adapted to the new normal with grace, understanding and patience, Dr Jemilah noted. "Naturally, there are people who resist, those who do not yet understand its importance, or those who are unable to comply but fortunately, these are the minority.  This is evidenced by the fall in the number of cases detected among Malaysians," she said.
As of 15 June, Malaysia had a total of 8,494 cumulative COVID-19 cases, of which 11% (973) are active. Its number of active cases has been falling since mid-April.
AMONG THE HARDEST THINGS TO DO
Azrul stressed that MCO is a disruptive and challenging period. He added that changing behaviors and adopting new practices are some of the hardest things to do in public health.
"Expecting people to perform or act the way public health experts want them to such as washing your hands frequently or wearing masks, is incredibly hard," he said.
Surprisingly, Azrul noted, Malaysians has done well in adopting many of these measures. Wearing masks was not a problem for most, as well as submitting to temperature checks and providing contact information, he explained. However, he said compliance on instructions about interstate travel during festive seasons had been a significant challenge.
A survey by market research company Ipsos, conducted from May 22 to 26, revealed that in embracing the new normal, Malaysians were still taking things a day at a time while its Southeast Asian neighbors were adapting to the new way of life.
"More than one-third of Malaysians say that they are still in a 'reaction' phase, establishing new routines," Ipsos revealed.
Those in Singapore, Philippines, Thailand and Indonesia have adapted to the restrictions and have settled into the new routines. In Vietnam, most felt that the pandemic was behind them, and they were moving on with their life.
NOT GOING ANYWHERE
When Ipsos asked Malaysians when would be the earliest time for them to be comfortable with doing certain activities, many responded that they would not do them in 2020. The survey found that this year, 44% said they won't use public transport, 56% won't join cultural events/gatherings, 57% won't go to gyms/sports facilities, 55% won't travel domestically and 83% won't travel to another country.
What I find challenging in the new normal is avoiding the handshake, which COVID-19 killed. I was brought up with the habit that this form of greeting shows respect to the person I'm meeting. Even when I was living in Bangkok, where the 'wai' (a slight bow with the palms pressed together) is a customary greeting, I would still shake the hands of Thais.
Compared to other Southeast Asian countries, Dr Jemilah said, Malaysia has more physical hand contact through handshakes and 'salam' (greetings).
Now that Malaysia has moved from MCO to a 'conditional MCO' (where some businesses were allowed to open since May 4) to a 'recovery MCO' (where interstate travel is allowed but schools are still closed and mass gatherings not allowed since June 10), life is getting back to some kind of normal.
But as Dr Jemilah warned, society must understand we can never return to the "old normal". "That innocent and simple pre-COVID-19 world is in the past," she said.
We can't think of "after the pandemic" as it is here to stay. We have to think about how to live with COVID-19.
Gardenia bread is no longer a scarce item in Kuala Lumpur, but we probably will never shake hands again.
__
This article is published by Heinrich-Böll-Stiftung Southeast Asia and Reporting ASEAN
Reporting ASEAN is a homegrown, independent venue for the discussion of news and issues around regionalism, highlighting voices and views from within Southeast Asia. Its focus includes coverage of the idea of an ASEAN, which goes far beyond the regional association ASEAN, as well as the training of journalists from the region. It follows conversations around the news media and journalism in Southeast Asia, from disinformation and misinformation to interesting ways of storytelling.
This article is a part of Web-Dossier: COVID-19 and Southeast Asia