Article
Imagine this: you are in your twenties and thirties, working and living every month – even every week – in a different city, a different continent. Everywhere you go, you stay with a community of people that are like-minded and enjoy the same life styles with you. Working in your coworking space during the day and going back to your coliving at night to eat and hang out with your neighbours, you make friends and connection and enjoy life in different cities and cultures while still working your job.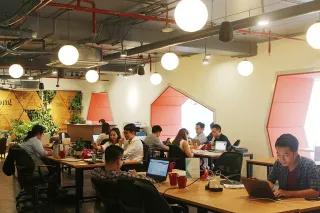 This is the premise – and ideal promise – of the new movement and this new way of working and living. Dubbed with names such as "co-workation" or "workcation", the movement aim at bringing people and workers around the world to, usually, what are considered as "exotic destinations". It utilises and banks on the proliferation of coworking spaces, which are flexible serviced offices where individuals, groups or businesses share their workspaces and build a community; and coliving facilities, an extension of the shared spaces into the home with the same community building aspirations where people share their living spaces and make connections, usually away from their home.
The booming development of Internet and communication technologies, the digital sharing economy and casualisation of work have all allowed a growing number of these workers, known as digital nomads, to be able to afford this mobile and exciting lifestyle. As the pandemic showed us, many jobs that have required us to go to an office can very well be done remotely, which has acted as a precursor to the expansion of this movement. 
Why is this relevant in Vietnam?
The past decade has seen a drastic transformation in Vietnam. The socialist-oriented market economy – as the official classification of the government goes – has become more and more open to the world, attracting a constantly growing amount of foreign investment while building and fostering a domestic ecosystem of startups and small enterprises.
The commitment of the government to support the growth of the business community, especially the small and medium enterprises (SMEs) and startups, was most evidenced in Resolution No. 35/2016/NQ-CP in 2016, aiming to have one million enterprises by 2020 and offering incentives to foster innovation in the sector (albeit spoiler alert: the goal was not met).
Nonetheless, Vietnam, with its young and tech-savvy and -forward population (almost three quarters of the population are in our thirties or younger), is still considered one of the fastest growing emerging economies globally, second fastest growing digitally in Southeast Asia, and a rising star in the regional startup scene. Huge inflows of foreign capital also meant that demands for more flexible working arrangement, such as opening representative offices and having elastic teams ready to scale up or down at moments' notice.
All these factors have created a generation of new workers: young, intellectual, white-collared, entrepreneurial, mobile and digitally immersed, who work remotely and enjoy their flexibility. This is the prime condition for the aforementioned coworking/coliving movement to proliferate in Vietnam, for both domestic and foreign providers, serving local and international demand.
Sharing reimagined
It is not a brand new idea to be sharing living and working space, as humankind has done that through its entire history – from clustering together in hunter-gatherer societies to living in communal housing and apartment blocs. For the Vietnamese people, sharing living space hits very close in modern history.
There's a Vietnamese proverb that goes, "Bán anh em xa, mua láng giềng gần". Better trade the far-away relatives for the close-by neighbours. Living communally for hundreds if not thousands of years has made the Vietnamese understand the importance of relationships in living in community and the people you're sharing the space with.
Just a few decades ago, living in Soviet-styled collective housing complexes (khu tập thể), with family households sharing their kitchen, bathroom and laundry with one another, was seen as the desirable and glorious way of living (Lisa Drummond and Nguyen Thanh Binh 2020, Ch. 3). Collective housing was the representation of the nếp sống mới, nếp sống văn minh – bringing the new and civilised way of living – in the rebirth of a post-war community.
As Vietnam enters its rapid development period in the 2000s, apartment complexes replaced these shared living arrangements and the families go into their matchboxes of flats. The booming growth of urban migration into the largest metro of Ha Noi and Ho Chi Minh City in the past two decades have led to the massive construction of high rise buildings and put Vietnamese urbanites back into individual unit living.
As the real estate market gets more and more expensive, sharing economy innovations – coworking, coliving and other form of space sharing business models – emerged as a way to make working and living spaces more accessible to a wider public. At the forefront of all these innovations, building a community of similar
Even before the entrance of the giant yet infamous coworking space provider WeWork in the Vietnamese market in 2018, coworking space growth was driven by the local players, already expanding over 200% year on year to become an important part of the economy – and even during the COVID-19 pandemic, Vietnam still stands among the strongest markets the giant has in the region. Coworking spaces has made it easier to access the commercial real estate market (ie: for offices and flexible working spaces) for the rising numbers of small and medium enterprises and start-ups, as well as the growing working population of freelancers, gig workers and creatives.
Coliving spaces, on the other hand, is a relatively new concept in Vietnam with the first few facilities opening up in the past few years and is still going through its testing in the Vietnamese market. Taking advantage of the abundance of unutilised / under-utilised properties in prime locations, these models are helping open a new supply of housing to the ever-growing metropolises. Instead of household units sharing community space, coliving facilities usually aim at single, young professionals who favour flexibility and connection over property ownership (especially those who can't yet afford them).
What to expect in the future
Coworking and coliving spaces are predicted to be more appealing in Vietnam, serving a growing population of Vietnamese and foreigners who are interested in the new economy that focus on community connection, flexibility and innovation.
New models and manifestations of sharing workspace, coworking, can be expected in the post-COVID world where the way people think about work has been fundamentally changed, and businesses and organisations have adapted a different mindset.
It will be interesting to see how communities will be created through these models of professionally managed living experience, as the sociability aspects of co-living has also been associated with better mental health outcomes, which is increasingly of interest to the new generation.
These innovations need to come with a caveat as it can potentially reinforce the global hegemony, for example as with other coworking-coliving sites in the world in less economically advantaged cities where digital nomads travel from the Global North and settle without truly benefiting the local communities.
The future of shared work and living spaces in Vietnam offers exciting possibilities for a generation embracing flexibility and connection in a rapidly evolving world.
__
Nguyen Ha Phuong or Phuong Nguyen is PhD candidate/Doctoral researcher at the Department of Social Anthropology and Cultural Studies (ISEK) at the University of Zurich, Switzerland. She is currently looking at the innovation of the digital sharing economy and digital platforms in the Fourth Industrial Revolution movement in Vietnam, especially at the sharing of space in co-living, coworking and home-sharing trends in the new economy.
The views expressed in this article are not necessarily those of Heinrich Böll Stiftung.
This article is a part of web-dossier "Vietnam in Motion", a collaboration between Phuong Phan and Heinrich-Böll-Stiftung Southeast Asia Regional Office.