Article
Peatlands are often discussed in the context of fires and the haze, but are also a meaningful part of the conversation about the climate crisis in an already too-hot planet.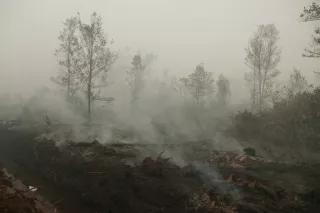 Talking about Southeast Asia's haze means talking about its peatlands, most of which are in Indonesia. 
Most of the fires that send clouds of polluted air over swathes of Indonesia – and at times over neighbouring nations too – occur in Kalimantan and Sumatra. Many of these fires rage across peatlands, or wetland ecosystems that are often cleared for plantations. Degraded peatlands often have declining water levels or are dried out, making them susceptible to fires. 
These fires have been a recurring challenge over nearly three decades, typically occurring during the dry season in the southern ASEAN region – for Indonesia, Malaysia, Singapore and Brunei. This dry season has been longer than usual, starting in May and expected to head into October.
But the risks of fires and haze are higher during extreme climactic conditions, such as the current El Niño pattern, which brings hot and dry weather across the tropical Pacific and is expected to intensify in coming months. There is also a positive Indian Ocean Dipole, which brings drier weather to the ASEAN region. (Brought about by differences in sea surface temperatures over these oceans, both were active during three past haze episodes, including the severe 2015 one.) 
Over the decades, Indonesia – home to more than 20% of the world's tropical peatlands – has found itself in the hot seat when it comes to the haze.
After the most severe transboundary haze in 2015, which lasted two months and sparked a diplomatic crisis, the Indonesian government announced a huge programme for the restoration of peatlands the following year.
Nearly a decade later, Indonesia – now with an agency focused on peatlands – says it has made massive progress in repairing degraded and dried-out peatlands so that they are less prone to fires.
Indonesia has restored "more than 3.7 million hectares" of peatlands, Muhammad Askary, an official with the environment and forestry ministry, said in August 2023. "This (has) never happened and now we have done that," he told a discussion hosted by the Centre for International Forestry Research (CIFOR) in Jakarta on fire prevention in the dry season and El Niño.
Askary explained that the "hydrological functions" of these peatlands have been restored – that the groundwater levels in dried-out and degraded ones have been increased enough.
Indonesian President Joko Widodo said the country has brought its deforestation rate to the lowest in 20 years, with an 88% decrease in forest fires.
But debate around this continues – what does restoration mean and by what standards? An analysis by the Gecko Project in August said Indonesia's claims in restoring peatlands "are not supported by data the government has made public".
"The findings suggest that large areas of peatland could be far more vulnerable to burning than the government has acknowledged," it said, using the figure of 3.66 million hectares of restored peatlands reported by the Indonesian ministry of environment and forestry as of December 2021.
In Indonesian government data, peatlands are considered restored when groundwater levels have been raised to 40 centimetres below the surface. Its use of the 40-cm measure comes from some research that shows this level and above can substantially reduce fire risk.
But the Gecko Project said: "Our analysis of government data indicates that even by this measure, the areas 'restored' have never reached the figures cited in official documentation and may in fact be far lower."
"The data also shows that the area of peatland that meets this 40cm threshold also fluctuates wildly as water levels rise and fall, sometimes dropping to as low as half a million hectares – a fraction of the area claimed as "restored" by the government, iy explained.
The Gecko Project used publicly available data, and said Indonesian government officials did not reply to their inquiries about the data and for comment.
In its Haze Outlook 2023, however, the Singapore Institute of International Affairs says that Indonesia and other ASEAN economies have "greatly improved their governance systems to respond as well as to prevent and avoid deforestation," which should help reduce the impact of any severe haze episode.
Indonesian President Joko Widodo said in April that the country has brought its deforestation rate to the lowest in 20 years, with an 88% decrease in forest fires, the institute said.
Indonesia's environment ministry reports that 204,894 hectares of forest and peatland were damaged by fires in 2022, a 43% reduction from the previous year, it added. The Haze Outlook said: "Indonesian authorities are therefore taking the threat of fires and haze in 2023 very seriously".
Askary reported more figures at the CIFOR event: 
The environment and foreign ministry has "intervened" with at least 116 companies, many of them oil palm plantations, for peatland restoration. 
More than 28,000 canal blocks have been built by plantation companies as part of rewetting measures (the canals were first installed to drain peatlands) 
More than 10,000 manual and automatic monitors of peat groundwater level have been installed
More than 36,000 hectares of burned area have been replanted with dynamic wood species
PEATLAND FIRES IN A TOO-HOT WORLD
While peatlands are often discussed in the context of fires and haze, their value in climate action – and links to the larger climate conversation – tends to be under-appreciated. 
In their natural state, peatlands are carbon sinks, providing nature-based methods at climate change mitigation and with potential to help countries and the planet do better in efforts to ease global warming. When they burn due to human-made or other causes, peatlands release their stored carbon dioxide (and other pollutants, like PM2.5 particulate matter) into the atmosphere.
Although peatlands cover only 3 to 4% of global land surface, they contain up to one-third of the world's soil carbon – or twice the amount of carbon stored in the world's forests. "Keeping this carbon locked away is absolutely critical to achieving global climate goals," said the Global Peatlands Assessment: The State of the World's Peatlands report, released by the UN Environment Programme (UNEP).
But about 12% of peatlands, or 50 million hectares, have been drained and degraded, the report said.
Peatland degradation (excluding fires) contributes to 4% of annual global human-induced emissions, or 2,000 Mt CO2e (metric tonnes of carbon dioxide equivalents) of greenhouse gas emissions per year, said the report. It explained: "500,000 hectares of peatlands that are accumulating peat (and thus actively capturing and storing carbon) are being destroyed by human activities annually." 
Indonesia tops the UNEP report's list of 25 countries with the largest amounts of greenhouse gas emissions from degraded peatlands per year. (These 25 countries account for 85%of global emissions from degraded peatlands.)
Indonesia releases 667.6 Mt CO2e each year, with Russia a far second, and China third. Malaysia, which releases 90.4 Mt Co2e annually, is fourth in the list.
(Indonesia is the ninth-largest emitter of carbon dioxide, although its per-capita emissions are half the world's average, the International Energy Agency (IEA) says.)
In peatlands, layers of peat soil accumulate in waterlogged conditions, over long periods of time, from carbon-rich, dead and decaying plant material. Healthy, humid peatlands are thus hard to burn.
But peatlands are cleared to make way for plantations or converted to other uses. They are drained to prepare them for planting other crops, such as oil palm, in Indonesia and Malaysia, which earn major export revenues from these. Indonesia is the world's largest producer and exporter of palm oil (apart from being a heavy consumer), followed by Malaysia.
"Peatlands will either be part of the problem or a key element of the solution," UNEP said when it releasing the peatlands report. If harmful emissions from drained, degraded peatlands continue at the current rate, this will eat up "12% of the emissions budget that remains to keep global warming below +2 °C and 41% of the emissions budget that remains to keep global warming below +1.5 °C."
Restoring degraded peatlands would also contribute 10% of the total emission reductions and removals provided by nature-based solutions across all ecosystems by 2030," it added. 
Southeast Asia has 23 million hectares of peatland, accounting for 40% of the world's tropical peatlands or 6% of world's known peatland resource. 
Most of these have been deforested and drained, studies say. Southeast Asia "lost more than half of its peat swamp forests between 1990 and 2010", the global peatlands report said.
The 2021 review of ASEAN's peatland management strategy cited results from a 2015 survey showing that only 6.4% of 15 million hectares of peatlands in Sumatra, Borneo and peninsular Malaysia were "intact peat swamp forest". A total of 3.6 million hectares, or 22%, was degraded forest, it said.
While these statistics are from years ago, they illustrate the degradation of peatlands through decades.
The 2015 survey findings, the ASEAN report said, point to a 41% decline in the area of forested peatlands since 2007 and 76% since 1990. Half (7.8 million hectares) of the peatlands in the survey was "under agriculture and plantations".
"Indonesia has acknowledged that forest and peat fires have historically made up a large proportion of the country's emissions," noted the Haze Outlook, which was released in June. 
But this proportion has fallen substantially since 2019, the outlook report noted, citing Indonesian government data. Greenhouse gas emissions from forest and peat fires have fallen from 25% of Indonesia's total emissions in 2019 – a proportion comparable to its energy sector – to just 6% in 2020, official data show.
Satellite data "corroborates Indonesia's reports about its emissions from forest and peat fires, and its reports that fires have been kept under control in recent years", the Haze Outlook added.
Looking ahead, it cautioned: "In order for Indonesia to meet the emissions reduction and net zero targets set out under the country's Nationally Determined Contribution (NDC) to the Paris Agreement, fires need to be kept in check." It pointed out that much of Indonesia's commitments in its emissions reduction by 2030 will come from its forestry and land use sector, which is to be transformed into a net carbon sink rather than a source of emissions due to forest and peat fires and degradation.
__
This article was first published on 3 October 2023 by Reporting ASEAN
Johanna Son is a journalist and editor based in Bangkok, has followed a mix of regional issues for some three decades. She contributes analyses and features to news outlets, including the 'Bangkok Post'. She is also a trainer on media issues and works on the capacity-building of journalists, especially in Southeast Asia. The founder/editor of the Reporting ASEAN media program, she is the author of 'Reportage Around ASEAN-related Issues: A Tip Sheet' (2019)
The views expressed by the author are not necessarily those of Heinrich Böll Stiftung.