Article
In Southeast Asia, artists are transforming the region's trash into a source of inspiration. With over a million of tonnes of plastic waste entering the sea annually, these artists are advocating for sustainability through their work. They explore the 3R concept—Reduce, Re-use, Re-think—and create eco-responsible art that challenges perceptions of waste. From playful Christmas tree sculptures to impactful "Sustainable Map," their innovative approach encourages a shift towards a circular economy. These artists redefine beauty from discarded objects, addressing pollution issues creatively. Through their work, they invite audiences to rethink their relationship with waste and embrace a more responsible approach to consumption.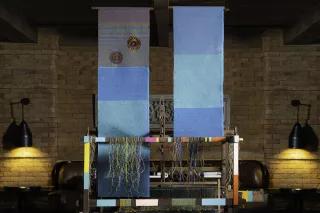 Conscientious artists from across Southeast Asia are treating the region's trash as their muse. According to 2021 research in Science.org, over a million tonnes of plastic trash enter the sea each year, of which 57% comes from just six Southeast Asian countries, with The Philippines emitting a third of the world total. So there's no shortage of materials – and an increasing supply of eco-responsible art.
Sustainability is emerging as a major art genre as galleries aim to reduce the environmental footprint of an industry that some consider non-essential. Yet artists play a prominent public role as advocates of the Circular Economy. The artists in this paper stress different aspects of the 3R concept: Reduce, Re-use, Re-think.
Much recycle art is didactic – tableaux of identifiable objects that urge waste reduction by portraying the problem in literal ways. For instance, reefs stitched from old clothing, or old plastic sheeting wrapped into the shape of sea creatures and filled with soda bottles and smoothie cups. The setting can also be playful, such as the Christmas trees of waste objects made yearly by Siam Discovery Center in Bangkok.
At this year's Bangkok Design Week, people were confronted with their bad habits  – in the form of a "Sustainable Map" of downtown Bangkok made from 200 kilograms of trash. Shown on a street wall of Leo Self-Storage, it was created by Wishulada Panthanuvong, Thailand's leading recycle artist. A version of her Sustainable Map is constantly on display for policymakers at the UNESCAP headquarters.
She founded an artivist (artistic activist) social enterprise under her first name, with a team who sift, sort, process and position the 9.3 tonnes of rubbish that she's already turned into art. Her cutest creation, "The Last Bear," has variants with "fur" of multicolour straws or shredded laundry detergent pouches that resemble flowers. Her clients include Thailand Creative & Design Center, Museum Siam, UNICEF and many Corporate Social Responsibility schemes, like her whale installations outside Krungsri bank and the Stock Exchange of Thailand. Next year she will be in the Bangkok Art Biennale.
Wishulada-art.com's homepage has animated totalisers of the discards re-used to date, including 1,128kg of bottle caps, 500kg of uniforms, 20k of keyboards, 229kg of straws, and 535kg of toys. She may have reused something you threw away.
It makes collectors feel good to know
they are supporting a good cause,
but not many want trash on their wall.
"In general, when one enters an exhibition of recycled/up-cycle theme, it is predictably an assemblage of found objects," notes Sukontip Nakasem, owner of Warin Lab Contemporary, a Bangkok gallery devoted to Southeast Asian environmental art. "It makes collectors feel good to know they are supporting a good cause, but not many want trash on their wall." So she focuses on artists who semi-process garbage in ways that invite the audience to discover how pollutants can be re-purposed.
For Warin's show 'Swamped,' the textile artist Ploenchan Vinyaratn wove giant blankets from beach-combed dreck, garment industry offcuts and shredded cans. They undulate like waves in the ocean gyres where manmade flotsam gathers, yet they also work as abstract tapestries.
In the most re-thought artworks, trash is deconstructed into a new material and up-cycled into artefacts so refined that their origin can come as an impressive shock. These 3R strategies question whether reforming public habits is best achieved through education or seduction, ugliness or beauty. Some artists have transcended that dilemma by creating a new aesthetic from items often rejected as  ugly, often catering to the Asian taste for cuteness.
The Thai artist Thanawat Maneenawa utilises the human tendency to see facial structure in random things. At Warin Lab, he conjured visages from discards like upturned detergent bottles with handle noses, keyboard teeth, or eyes in the speakers of an old radio. These amiable companions engage people of any age and make trash feel less repulsive to handle, however they represent the culprits of pollution: us.
Similarly, Narongyot Thongyu, from Chiang Mai, Thailand, humanises discards by reconstructing them into puppets. Bangkok Art Biennale and Atta Gallery featured anthropomorphic forms with head made of things like glue-pots or polystyrene burger boxes, from which dangle shampoo bottle bodies with toothbrush legs.
Waste management is especially crucial in this region of many peninsulas and archipelagos, with their long coasts and mostly short rivers. Monsoon rains flush inland litter quickly seaward through river systems like the Chao Phraya Basin that inspired the Thai artist Patipat Chaiwitesh in the Bangkok Art Biennale. Images of creatures caught in discards like beer-can webbing or ring-pulls, led him to preserve real creatures using taxidermy and augment their bodies bionically with trash torsos and litter limbs. These monstrous chimeras are both amusing and horrifying.
Rather than dressing creatures in rubbish, Filipino artist Leeroy New adorns himself and models in extravagant costumes made from recycled plastic. He sees these combos as "aliens" that inhabit the large-scale immersive structures he builds in public spaces all over the world, from Toronto to Thailand's Wonderfruit Festival. Soon he'll make a permanent building in a Manila children's museum.
Out of economic necessity, New found himself sourcing in recycling centers, and then challenged himself to maximize resources. "It seemed like the logical next step," he says. "Also seeing as how Filipinos tend to not throw things away and are able to transform surplus and waste into decor for fiestas."
New combines recycled materials with sustainables like bamboo. "My goal is for my works to not be some whimsical representation of a speculative future, but to become viable propositions for transforming our future. The pandemic fast-tracked my explorations. I was able to come up with a new series of statement and sculptural face-shields using PET bottles."
While many lament the harm of pollution, New makes the best of what's unavoidable. "I find the endearing part in attempting to transform plastic waste is that it will always be recognizable as this thing that has become a part of life. The result is a kind of sci-fi imagining of what the entities and landscape will look like. It seems the organic-and-plastic hybrid has become our inevitable fate."
It seems the organic-and-plastic hybrid has become our inevitable fate.
Coexisting constructively with throw-aways has been a hallmark of Thaiwijit Poengkasemsomboon, a Thai pioneer in recycle art-design since the 1990s. Based in Chiang Mai, he turns scrap metal into what he calls "Lobal Transformationalist Furniture" with charming character. He welds pipes, cogs, fuel tanks with any interesting scrap, invariably with wheels or a lamp. This is upcycling items of low worth into meaningful art, whereas downcycling breaks junk like packaging, padding or lumber into reprocessed materials of lower value, such as reclaiming shredded PET into carpeting or fleece fibres. Yet savvy artists can also turn downcycled shards into upcycled luxury objects. 
The witty art-furniture made by Thai designer Singh Intrachooto has constituents that are hard to discern. His famously quirky bench, with legs that seem to walk, re-uses scrap wood, of which the construction and shipping industries are big offenders.
The shipping – and fishing – industries are also responsible for ten percent of marine plastic pollution – and almost half of the plastic in the North Pacific Gyre – according to a World Wildlife Fund survey in 2020. The half-to-one-million tonnes of it added per year drift on the currents, breaking reefs, trapping turtles and strangling dolphins. Wafting like the Death Eaters in the Harry Potter tales, this shadowy tackle goes by the sinister name of "Ghost Gear."
The Indonesian artist Ari Bayuaji is gaining global recognition by transforming the ghost gear that washes up near his Bali studio into elegant textiles and sculptures.
"My Weaving The Ocean project began by replacing vanishing natural materials with 'new natural materials' that can be easily found," he says, but unlike Leroy New he disguises their origin.
Bayuaji first downcycles the marine ropes into coloured strands, then upcycles them by having them woven across cotton in a traditional loom into a hybrid textile he calls ArtWeave. Embellished with comparable items such as Javanese beads of recycled glass, his tapestries appear like "colour field" abstract landscapes with the lustre of silk. Gallery-goers are shocked to learn what they're made from.
"I want to manipulate the found objects to create a new form of material, so that the audience can't see the traces of trash in my artwork," he says. "I don't have to show visually how dangerous ghost gear is to marine species. I always try to create something poetic that could touch people's heart. By discovering the materials in my artworks, I am sure the viewers could link to the danger of it out there."
I would like to make the audience feel how Gadja Minah, as the God of the Sea, feels hopeless watching what is going on in the ocean because of our human action.
The problem is global and Weaving The Ocean has resonated with visitors to 16 exhibitions on four continents since 2021, from Warin Lab to the Kennedy Centre's River Run festival in Washington DC. Educators also value his poetic approach, which draws upon traditional lore. In his permanent display at the Coral Triangle Center in Bali, he sculpted from ArtWeave and driftwood an image of the elephant-headed fish Gadja Minah languishing under plastic flotsam and jellyfish made from rope strands. "I would like to make the audience feel how Gadja Minah, as the God of the Sea, feels hopeless watching what is going on in the ocean because of our human action."
In November, the City of Montreal has commissioned Bayuaji to recreate his Bali plastic weaving studio for a year at the Biosphere, inside the landmark geodesic dome built by Buckminster Fuller for the 1967 Expo. In the effort to reform human habits and give our environment a reprieve, Bayuaji, Wishulada, New and the other Southeast Asian recycle artivists are finding fresh ways to convey the message to reduce, re-use and re-think.
__
Philip Cornwel-Smith is a freelance writer and the author of Very Thai: Everyday Popular Culture and Very Bangkok: In the City of the Senses.
The views expressed in this article are not necessarily those of Heinrich Böll Stiftung.
This article is a part of the web-dossier "Plastic Problems in Southeast Asia"