Article
The concept of conservation has evolved from being a colonial project of purely preservation to becoming more attuned to multispecies justice, beyond humans and human experience, through to co-existence and recognizing a plurality of voices.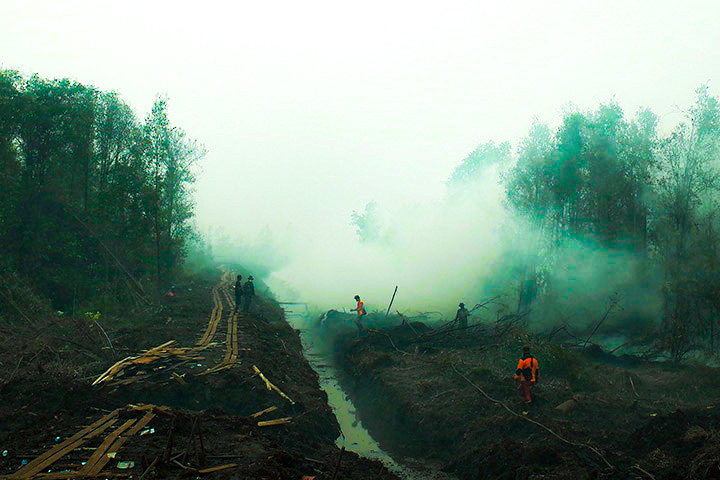 Nature conservation has flourished in various parts of the world and materialized in different forms. Conservation is traditionally defined as "state-based initiatives to maintain existing biodiversity and its supporting ecological conditions through the establishment of Protected Areas (PA)"[i], spanning cases such as the Gifford Pinchot-John Muir debate over the creation of Hetch Hetchy Dam in Yosemite at the end of the 19th century to the recognition of Whanganui River's rights and personhood. In recent decades, combination of international conventions such as the Convention on International Trade in Endangered Species of Wild Fauna and Flora (CITES), conservation science and geospatial technologies have assisted in the expansion of PA. Today, about 253,000 PA (terrestrial and marine) have been established, covering about 16% of the world surface. In 2022, several positive stories of conservation have been reported, such as keeping Chinese alligator and the southern white rhinoceros from extinction.
This article examines the importance of 'conservation' and the evolution of its ideas and practices, namely control, capitalism, and co-existence.
Control: the rise of fortress conservation
In its earlier days, conservation was very much a colonial project – protecting and enclosing the 'wild' landscape 'out there' to serve utilitarian, ecological and aesthetic purposes. American national parks, together with the formation of modern America, were created through the construction of the Edenic garden narrative, ideas of biology, geology, and economic and territory-making. In doing so, it required Native peoples removed from their Native land, rendering them invisible in  'White' conservation program. In a similar picture, the 'political forest' concept, a forest that has been produced through politics, is an exemplar of state-led conservation in the context of Southeast Asia.
But with the security of nature conservation increasingly rely on satellite technologies and surveillance activities, there has been a growing concern about the lack of participation by local inhabitants in conservation projects, since their decision-making process were replaced by algorithms in computers and experts at the townhalls. Historically, geographically and politically removed from decision-making process, local livelihoods were often criminalized while at the same time, power and resources were syphoned away towards the state, for example in the cases of forest fires, animal tracking, and poaching and trafficking.
Fortress conservation has created a wider gap between humans and nature. Its idea rests on constructing an imaginative and a physical wall for separating pristine nature from greedy humans. Often, it is only those who have lived closest to their nature who are dispossessed from their own place. The distance between human and nature could not have been greater.
Capitalism: the boom of neoliberal conservation
The social cost of fortress conservation led to a shift toward financing nature conservation as part of the neoliberalization of nature. Nature is viewed as 'natural capital' – that it can be bought, sold, or substituted to benefit humans. In this movement, the role played by non-state actors such as international NGOs and corporates far exceeded that of the state, forming complex cross-scale network, expressed, for example, in the form of ecotourism, community-based conservation and wildlife hunting area as popularized in the Netflix series MeatEater.
Over the past decades, payment for ecosystem services (PES) attracted attention from developing countries. Basically, it allows local people to be paid to keep their forest in its original state instead of converting it to something else. With the discourse of climate change, the emergence of REDD+ programs (Reducing Emissions from Deforestation and Forest Degradation), for example in Lao PDR and Cambodia, Vietnam and Indonesia, promised carbon reduction through investment in forest projects. Questions remains, though, about its transparency and whether such project really address the underlying cause of poverty and inequality at the recipient end. Taking a political ecology perspective, carbon forests, portrayed as development opportunities, are result of 'accumulation by conservation' or 'green grabbing' where elites create a condition for accumulation of wealth by enclosure or dispossession of land while incentivizing landholders to make conservation efforts of the commodified natural resources. Driven by consumerism and materialism, neoliberal conservation may instead reproduce pre-existing social, economic, environmental, and political inequalities.
Green modernization rejects separating humans and nature, and instead believes that the integration of socionature (where nature and humanity are one and the same) could be managed through financial supports. Based on logic of capitalism and commoditization, conservation seems to be more about economic development and less about biodiversity.
Co-existence: the search for convivial conservation

                                            
The Anthropocene, the time when humans and nature co-constitute each other into an inseparable entity, demands thinking about nature conservation differently. Surely, pure nature could no longer be found or fenced off, nor  its original state  be restored. Migration of plants and animals due to unpredictable climate change would require the boundary of PA (Protected Areas) to be more dynamic. In addition, argued from the perspective of Capitalocene, who should be held accountable and responsible for development-environment inequality: everyone, or certain capitalists? In this messy eco-sociological world, entangled in unequal power relations, how should humans and nature co-exist?
Authors of the book The Conservation Revolution suggest a radical conservation effort that goes beyond the nature-culture dualism of fortress conservation, and beyond capitalism of neoliberal conservations. Convivial conservation focuses on justice in biodiversity governance. Conservation decision-making should recognize different worldviews and values, especially that of indigenous groups, to challenge top-down processes. Conservation-as-development needs to be aware of the micro-politics of gender, social class and rights. Long-term engagement with the mundaneness of wildlife rather than short-term fetishized visual tourism is also highly encouraged.
Multispecies justice is at the heart of convivial conservation. It is about re-centering the notion of 'more-than-humans' to help finding ways of co-existing and co-mingling. In addition to species demography and their economic value, conservation strategies must recognize personhood, culture and sociality of the more-than-humans, as well as their agency in sharing and shaping our emotional bond, spiritual believes, kinship, life stories, cultures, histories, geographies, and politics. By understanding their personalities and behaviors, we could learn to tailor the design of conservation infrastructure and eliminate potential risks in more flexible and creative ways.
In a broader picture, integrating cultural and social dimensions of wildlife in international policy demands an alternative governance that pursues epistemology, distributive and participatory justice. Conservation projects must be made meaningful for both humans and the more-than-humans, in order to serve both cultural and biological purposes. Otherwise, how could a conservation project be trusted?
Further notes
[1] See recent efforts in Thailand: https://www.nationthailand.com/pr-news/business/40018666, and https://www.nationthailand.com/pr-news/business/pr-news/40019655
__
Chaya Vaddhanaphuti is a Lecturer in Geography at Department of Geography, Faculty of Social Sciences, Chiang Mai University.  He is interested in the idea of nature-culture relationship, especially the human dimension of climate change. His research explores what the everyday weather and the so-called "climate change" culturally and historically mean in Thai and Southeast Asian contexts.
The views expressed by the author are not necessarily those of Heinrich Böll Stiftung.