Article
The COVID-19 pandemic has drastically changed how we all work and live. In the last two months, measures like social distancing, working from home, proper handwashing, wearing masks and personal protective equipment, have permeated our daily lives. Governments of different countries have encouraged adoption of these measures to contain the spread of the virus which can be lethal, has no known cure yet, and is highly communicable.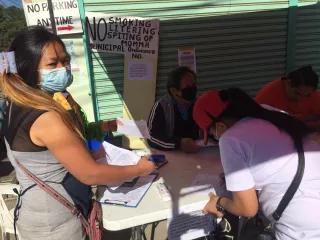 In some countries though, these measures were simply not enough to curb the spread of the virus, prompting governments to impose further control by adopting different and sometimes harsher versions of quarantines and lock downs. In Manila, Philippines where I am based, the enhanced community quarantine (ECQ) imposed by the Duterte administration meant near total lockdown. All forms of public transportation were suspended, schools and malls were closed, and all businesses and stores considered non-essential were shuttered. Having experienced how hard it was living under a lockdown, I wanted to better understand how grassroots and frontline communities are coping with the COVID-19 situation and see how I can work in solidarity.
I work as the Asia Regional Coordinator for the Coalition for Human Rights in Development, a global coalition of social movements, civil society organizations, and grassroots groups working together to ensure that human rights are at the center of development. In this capacity, I also coordinate our Community Engagement Partnerships, through which we collaborate with communities affected by internationally financed development projects to exchange strategic information and resources, strengthen capacities, and engage in collective action to defend human rights and promote community-led development.
As we started hearing about the coronavirus and the lockdowns, we reached out to our community engagement partners to inquire about their situation and to assess if there were collective ways for us to support each other. I share below a small selection of the information we received and the trends below.
Food and livelihoods remain the primary concern for communities, including those affected by internationally financed projects
Hunger and loss of livelihoods are the most immediate concerns for the communities we reached out to. Across countries, the closure of businesses and non-essential industries due to lockdown and quarantine measures meant that people were forced to temporarily stop working. Daily wage earners in the informal sector including vendors, hawkers, transport drivers, and construction workers were most affected. Several of our community partners have been further affected because of the projects they have been resisting.
"We received reports that the indigenous Dumagat-Remontados in Quezon province, within whose ancestral domain the controversial China Exim Bank funded Kaliwa Dam Project will be built, were being prevented from gathering food, medicine and firewood from their ancestral forest areas," said Zeena Maglinong, secretary general of Freedom from Debt Coalition (FDC), in the Philippines. "The restriction of movement around the dam site was put in place prior to the lockdown, but the COVID-19 quarantine exacerbates the Dumagat-Remontados already dire situation. The heavy presence of police and the military due to the quarantine has made it doubly hard for them to secure what they need from their forests."
In Bangladesh, laborers of at least six (6) different coal power plants that are under construction are in a similarly difficult situation. "When the government declared the lockdown, some construction companies still continued operations and only stopped when the media published their violation of the government order. This left some workers stranded in the construction sites because they were not notified of the sudden closure. Some were told that construction work would stop but were not provided advance payment or compensation. The unavailability of public transport has left them stranded and their companies failed to provide any support," said Hasan Mehedi, Member Secretary of Bangladesh Working Group on Energy and Development (BWGED). 
Worsening already precarious health situations
The spread of COVID-19 is creating additional health risks for those with pre-existing health conditions due to environmental pollution from energy and extractives projects.
"Coal power plant affected communities in the Philippines have no option but to simply cope with their existing health concerns. Prior to COVID-19, these communities were already suffering adverse health impacts due to coal ash and smoke from the coal-fired power plants in their areas. With COVID-19, people in the area are doubly vulnerable because their immune system have already been weakened due to the coal plant's continuous operation. A few of our community members were rushed to the hospital emergency room last week due to difficulty in breathing, but were sent home after first aid, because public hospitals are full," said  Derek Cabe, a community organizer with the Coal Free Bataan Movement (CFBM), a province-wide coalition working with coal-impacted communities in Bataan, Philippines.
 "How can you be healthy when you are living in a polluted environment and you have no money to buy nutritious food?", asks Cabe. "While the government is advising people to remain healthy, it is near impossible for the communities we are working in to stay healthy."
Projects are going ahead without meaningful community participation, but local organizations are still trying to find ways to engage
Project construction on many projects that face resistance from local communities are still continuing as are approvals for new infrastructure development projects, despite restrictions on civil society to participate.
"While civil society organisations and rights defenders are observing quarantine, government has continued issuing mining permits and mining activities are continuing. At least three different communities we are working report seeing an increase in illegal mining activities being conducted under the radar, especially by Chinese mining companies. These situations have resulted to increased tensions and added to the emotional and psychological burden of communities under quarantine.," said Jaybee Garganera from Alyansa Tigil Mina (ATM), a national coalition of organizations and groups fighting destructive large-scale mining in the Philippines. 
"The Tanzanian government has adopted measures to fight the spread of COVID-19, which put limited restrictions on people. We have no information about how development projects are progressing and development financial institutions (DFIs) have also not stopped approving funding for different development projects, and with these circumstances, engagement with DFIs is difficult," said  Maria Matui, Coordinator of the Tanzania-based Network, Women Action Towards Economic Development (WATED). "The Ministry of Health initiated a virtual meeting with CSOs to discuss strategies and modalities to curb COVID-19, in particular, gender based violence issues. And we are using phone calls, messages and hopes to initiate radio programs to continue connecting with communities and continue engagement with government." 
"In Uganda, the lockdown is negatively affecting our operations because no meetings are allowed, government institutions including courts have restricted operations, and public transport is curtailed. This is an advantage to evictors because they can more easily engage in arbitrary arrests and detention, , without communities being able to organise on the ground or seek relief from courts," said Geoffrey Ssebaggala, Executive Director of Witness Radio, a Ugandan organization which investigates land investments projects with negative impacts on communities. 
Working online is limiting and not secure
Lockdowns, social distancing and quarantine policies have required the closure of physical offices and larger meetings, forcing communities and civil society organizations (CSOs) they collaborate with to take their work online. Unfortunately, this has limited the interventions that communities and allied organizations can undertake. Many are using emails, phone calls, texts, video and call conferencing to communicate with partners, and their advocacy targets like governments.
Our partner organisations in Mongolia, Nepal, Philippines, Laos and other places report working online is not easy given that many of them are working with rural communities and indigenous peoples' who may not have access to the range of tools that enable one to work online. Many grassroots groups and local organisations do not have access to computers, laptops, smart phones, and reliable internet connectivity. These have made communication between communities and their partner organisations difficult and problematic.
There are also increased risks of hacking, and surveillance, which increases risks for organisations and defenders who are working in sensitive and high-risk situations. One of our partners working with communities related how their virtual meeting was hacked and how they had to stop the meeting and restart again.
Curtailed freedoms
The lockdown has led to the curtailment of fundamental freedoms including, freedom of assembly, freedom of information, and even freedom of speech.
"In Mongolia, we have seen the police stop any attempt to voice a protest even with just one or two persons doing live streaming," said Sukhgerel Durgunsen, Director of Oyu Tolgoi (OT) Watch.  "There have been arrests and people were detained without court orders while projects opposed by the public are being moved forward using lock down situation."
"The security forces have been deployed to impose the quarantine and those who violate the lockdown have been arrested.," reports Durga Yamphu, from the Lawyers' Association for Human Rights of Nepalese Indigenous Peoples (LAHURNIP).  "There is insufficient information about COVID-19 for indigenous peoples. COVID-19 materials have not been translated into different indigenous languages. This coupled with police arrests have raised indigenous peoples' psychological fears about the disease. Indigenous communities such as Shanthal, Ghale, Gurung, Tharu, Thakali decided to act through their own traditional institutions on how to cope with this pandemic and imposed village quarantines and lockdown, while coordinating with the government to deal with the pandemic."
There is still hope
Fortunately, there is still hope even in the bleakest situation. In all the countries we reached out to, CSOs and local community organizations have taken on the challenge of supporting the communities they have been working in or with.
In the Philippines, organizations like FDC, CFBM, ATM, provided financial aid and relief packages for marginalized fisher folk communities, indigenous peoples.
The Indian Social Action Forum (INSAF) in Kolkata, has organized food aid for shopkeepers who already lost their source of income when they were temporarily displaced by the Asian Development Bank (ADB) funded Kolkata Environmental Improvement Investment Project (KEIIP).
The Coastal Livelihood and Environmental Action Network (CLEAN), a civil society network in Bangladesh pooled their salaries to respond in these tough times for the communities they were working with. The money was used to provide food assistance, handwashing soaps and sanitizers. 
NGO Forum on ADB, a regional organization doing advocacy and campaign with Asian Development Bank (ADB) and Asian Infrastructure and Investment Bank (AIIB) also initiated a fund drive to help their members respond to the needs of the communities they are working with. 
Additionally, despite the odds, several communities are continuing to fight for their rights, and even having successes. For example, Ssebaggala shared "A petition lodged with the Lands Ministry in Uganda resulted in Lands Minister Betty Kamya announcing that there will be no evictions during the COVID-19 lockdown."
New Normal
Unfortunately, if the number of people infected daily is any indication, the COVID-19 pandemic is far from over and the crisis and its impacts will remain for the immediate future.
The stories shared by communities are real, and demand immediate solutions. An unnamed Filipina interviewed by a TV news reporter was asked why she is out and whether she was not afraid of getting COVID-19 replied quite candidly, "kung bahay lang  po ako at di lalabas para maghanap ng ikabubuhay, hindi nga po sa virus, pero sa gutom naman po kami mamamatay."  (If I will stay at home and stop working, we will not be killed by the virus, but we will also die because of hunger.)
This is the new normal and it is a challenge for all of us. A challenge to seek ways to ensure that the rights of communities are still protected, and that their most immediate needs are addressed. A challenge to stop the inhumane and unequal system which the pandemic has exposed from continuing into a post-COVID world. A challenge to make sure our collective energy and resources, and the governments and the financial institutions who act in our names, work for those amongst us who are most vulnerable.
*Carmina Flores-Obanil is the Asia Regional Coordinator of Coalition for Human Rights in Development.
This article is published by Heinrich-Böll-Stiftung Southeast Asia and NGO Forum on ADB
The NGO Forum on ADB is a network of civil society organizations (CSOs) that has been monitoring the projects, programs, and policies of the Asian Development Bank (ADB) and the Asian Infrastructure Investment Bank (AIIB) with membership spans Asia and the Pacific regions.
This article is a part of Web-Dossier: COVID-19 and Southeast Asia