Article
Multilateralism, strengthening cooperation, and upholding international legal principles are proclaimed to guide Thai foreign policy. But there are three key areas which remain testing for Thailand's balanced approach: security, the post-pandemic situation, and civic spaces.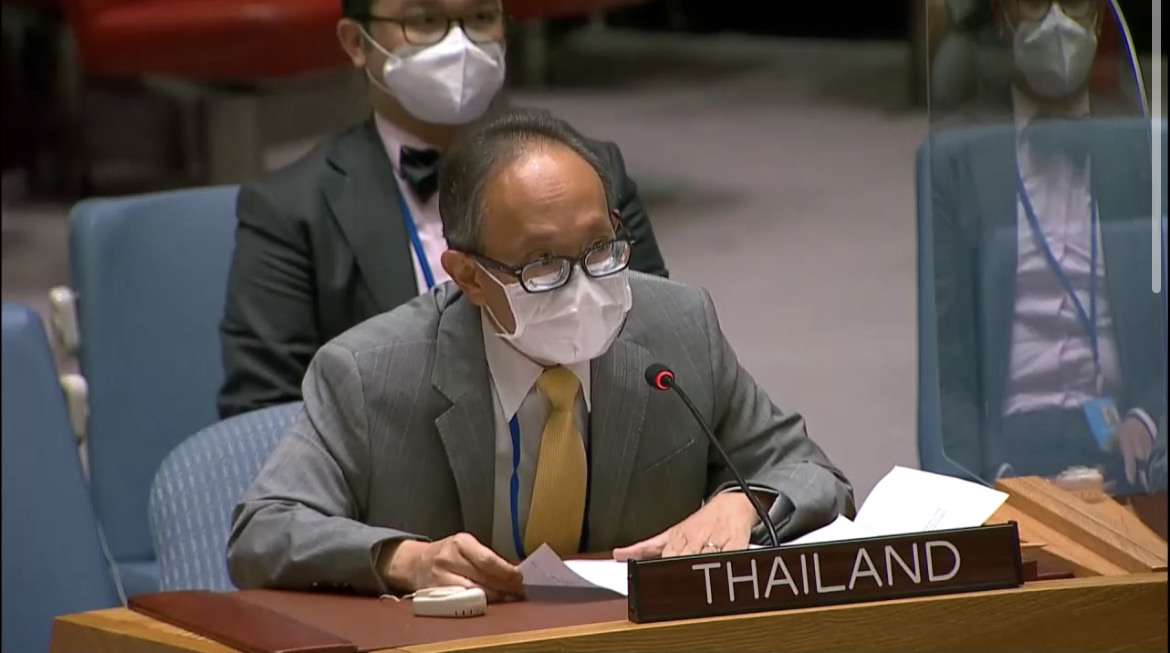 Thailand's stance among the great powers has always been one of caution and balance. It was careful not to be seen as 'siding' overtly with any faction. In fact, in a case exemplifying this, the Thai Ministry of Foreign Affairs in 2018 responded to criticism regarding Thai foreign policy by the media: Prime Minister Prayuth's administration emphasized an equilibrium among great powers as well as major countries, guided by principles of constructive engagement, mutual respect, mutual trust, and mutual benefit.
Amidst increasing multifaceted challenges including frictions among the great powers themselves, such as the US and China, it became more and more difficult for Thailand to 'balance'. Thailand strived hard to be perceived as neutral, sometimes arguably detrimental to its guiding foreign policy principle. As a recent incident demonstrated, Thailand was among those abstaining from the resolution on Ukraine's territorial integrity in the war with Russia. It was interesting that the appeal to the international community as stated in the draft resolution was to defend "the principles of the Charter of the United Nations". China and India also abstained while the US was adamant that the referendum must not be recognized. The majority of ASEAN member countries – where Thailand has often insisted on the regional organization's harmony and resilience time and again – actually voted for the resolution. This constituted ongoing challenges which Thailand must weigh carefully, given that Thailand values security and development aid from the US (not to mention that it is still picking up the pieces from the last coup in 2014).
Capable, though juggling security challenges
Cobra Gold has been one of the oldest international military trainings since it began in the early 1980s. The operation then expanded from bilateral training between Thailand and the US to include a number of key countries for co-training, with the two founding nations remaining as co-hosts. The operation has also evolved to incorporate various forms of training, namely peacekeeping, anti-terrorism, search and rescue and disaster relief. China's role in this, as in the latest training, remained in search and rescue, together with Australia and India. Following the 2014 coup, Thailand could not rely on US military aid which was curbed, and turned towards tanks and vehicles from China. The US has emphasized the significance of democratic elections as a basis for a strong relationship between Thailand and the US, and Thailand organized an election in 2019. Nonetheless, it remains a challenge for Thailand to balance these relationships. 
In non-traditional security issues however, Thailand has shown potential to lead. As seen from the country's deliverables during its latest ASEAN chairmanship in 2019, Thailand did well in capacity-building and coordination regarding disaster relief. Non-traditional security issues such as maritime conservation were also useful when Thailand served as country coordinator for China in its attempts to mitigate the tension in the South China Sea and coordinated for the Code of Conduct. Thailand did this through confidence-building measures relating to marine environmental protection and marine scientific research such as fish stock studies as well as other cooperative activities. What Thailand did best at that time, and it would do well to focus on its strong point in that regard, was to keep the lines of communication open and foster engagement with China while still trying to uphold international legal principles – it played its role as an honest broker. Thailand's work had a stabilizing effect on the situation, arguably also due to Thailand's status of non-claimant, as it has no territorial stake.   
Closer to home though, Thailand seemed to underperform and provide lackluster leadership when it came to conflict concerning its neighboring country Myanmar. At the very least, Thailand pledged support to the ongoing work of ASEAN special envoys and there have been some discussions with the US in supplying humanitarian aid: building a humanitarian corridor, which could be done hand-in-hand with dialogue facilitations at the higher level.
Thailand now navigating (post-?) pandemic relationships
Thailand welcomed vaccine donations from the big players in vaccine diplomacy, with both the US and China donating millions of doses of vaccines to the country. The Thai Ministry of Digital Economy and Society cooperated with the Chinese firm Huawei Technologies to equip major hospitals in Thailand with AI to analyze and report coronavirus results as well as telemedicine. Nonetheless, Thailand has now changed its policy position from before when it comes to disease control, with its move to lessen travel restrictions and remove COVID-19 from being a dangerous communicable disease. It recognized that to have a zero infection rate would be difficult and recommended that people coexist with the disease safely.   
Despite economic backlashes, China reinforced its commitments towards zero COVID-19. It proceeded with lockdown measures and emphasized using domestic vaccines. This policy has led to a scarcity of raw materials and commodities such as electric equipment, plastic, and auto parts exported to Thailand. The cost of production and the price has then risen. In addition, Thailand's exports such as fruits (especially durian), where China was one of the biggest markets, had to convert to sea shipments due to delays from closed checkpoints. Thailand might need to diversify as well as adapt in case zero-COVID is deemed a long-term policy in China. The discrepancies in coronavirus policy have added to the challenges in Thailand's foreign policy conduct.    
Civic spaces and restricted freedom
Last but not least, there remains concerns regarding decreasing civic space and restricted freedom. It would benefit Thailand if its domestic record and foreign policy are in accordance. However, Thailand remained at the defensive when it tried to present its achievements in the international arena, especially at the Universal Periodic Review at the United Nations, which reviews human rights records of its member states. Thailand might be able to strengthen its normative commitment in this regard, which included ratifying key conventions as well as following through with implementations and upholding international obligations. The Thai Ministry of Foreign Affairs emphasized steps towards strong and sustainable diplomacy, which might need more than redressing the 'misunderstandings' via PR, roadshows, and providing clarifications to decision-makers, media, and the public.
A continuing bridging role
Thailand could also play on its strength in development diplomacy and people's diplomacy in aid provision and rehabilitation programs for survivors of human trafficking for its neighboring countries. Although Thailand has been a member of the Human Security Network and established its own Ministry of Social Development and Human Security, there remains gaps between codifications and practice. One of the ways to close this in relation to foreign policy is also to bridge the international community's human security agendas Thailand already subscribes to, such as the ban on landmines and prevention of violent extremism and gender-based violence to clear national action plans. This could add to normative resources which could be drawn upon as a source of foreign policy, and help navigate through the challenging geopolitical landscapes among the heavyweight nations. 
__   
Kasira Cheeppensook is an Assistant Professor of International Relations at Faculty of Political Science, Associate Dean in Academic Affairs, and Deputy Director of the Centre for Social and Development Studies, Chulalongkorn University. She holds Ph.D. in International Relations from the London School of Economics and Political Science and M.Phil. in International Relations from the University of Cambridge. 
The views expressed in this article are not necessarily those of Heinrich Böll Stiftung.