Article
An abundance of plastic is overwhelming our environment and threatening our health. There is a clear absence of gender-considerate approaches, even though women are significantly discriminated against, due to their increased exposure via household labor, work in the plastics industry, and use of menstrual plastic products. Female-led solutions to recycling and unpacking gender norms can contribute greatly to addressing this issue, though it remains a problem for everyone to deal with.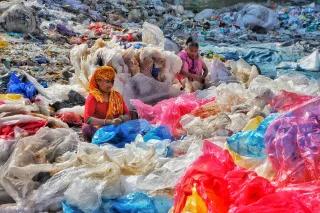 In this context, it is important to mention that gender does not simply equal women and men. Gender is a social construct that ascribes to an individual's roles, responsibilities, norms, attitudes, behaviors and expectations. In reality, gender roles are affected by a variety of other identity factors including age, class, race, ethnicity, religion and ideology.
The three Rs of waste management – Reduce, Reuse, Recycle – are a well-known trio to tackle the ubiquitous perils of plastic pollution. Unfortunately, this popular idiom draws a picture far from the reality of many women – particularly women afflicted by intersectional discrimination, aside from only being perceived as female.
A more realistic rule of three for women would be Produce – Use – Recycle. Not only do women work to a large extent in the plastics industry but they are also more affected by health issues with exposure to and the usage of plastics. Overall, they are also highly pioneering and involved in finding solutions regarding plastic recycling.
Women in the plastics industry
Around 30% of workers in the plastics industry are women. A big occupational segregation exists in the waste management sector, with women concentrated in the informal economy and thus pushed into performing lower-paid and lower-skilled jobs than men. Individuals in low-paid jobs are more likely to be exposed to toxins or pollutants such as cleaning agents and other chemical substances. One clear and notorious example of bad working conditions is the textile industry. Many workers in this particular industry – some 70% of them worldwide are women – suffer from work-related illnesses. For instance, women who work with synthetic fibers in textile factories have a high risk of contracting breast cancer. Additionally, textile workers in China who are exposed to these fibers have been found to have an increased risk of miscarriage. A Canadian study furthermore shows that women who handle plastics in the car industry have a fivefold higher risk to develop breast cancer.
One reason for the unequally distributed health risks in the plastics industry between different genders is that current guidelines for safe exposure levels to plastic are not gender-inclusive. Safety measures, which should protect each and every individual, in most cases do not reflect the greater impact on women at lower exposure levels. This is not only a result of the deep gender-data gap, which leaves out any gender other than male in scientific studies, but can also be traced back to the major under-representation of women in STEM (science, technology, engineering, mathematics) and in technical roles in the plastics industry.
Women are still being blocked out of higher positions by patriarchal structures, be it due to the omnipresent glass ceiling or gender disadvantages in education. As a result, safety measurements and scientific research exclude women, resulting in higher health risks and therefore gender-based discrimination.
Plastic exposure ≠ plastic exposure
Safe exposure levels to plastic are not the same between sexes. In fact, a similar level of exposure can have different health repercussions for women and men, and for people who identify beyond these two genders.
There are two main reasons for the differential impact on health among sex and gender:
The biological structure of female bodies have a higher proportion of fat, which provides a larger reservoir for bioaccumulating and lipophilic (fat-liking) chemicals. This means in effect that women exposed to these compounds usually have higher concentrations of stored toxic chemicals in their bodies than men who experience a similar degree of exposure.

The distinctive social gender roles both in the domestic and professional environment can lead to different degrees of exposure to hazardous plastic waste or chemical components.  
Plastic and care work
Thanks to the profound gender norms which are systematically rooted in our society, unpaid labor like household responsibilities are still mostly burdened onto women. Women who are caretakers often have to take over several obligations like food supply, cleaning, and parenting. Many chores come with a significant amount of plastic exposure and usage, including the negative effects on the main caretaker's health. After all, women are still blamed for plastics entering the environment, despite their personal sacrifice and the ongoing oppression, regardless of having no other choice or limited alternatives.
Due to the prevailing gender roles in many cultures, women globally make the majority of household consumer decisions. In many cases, they are more likely to prioritize environmental protection and therefore make greener choices, especially when empowered to do so. However, those greener choices can only be made with proper access to essential funds and education. These are the consequence of classism that often deprives the world's poorest. This is why an intersectional feminist approach is crucial to tackle plastic pollution.
Plastic and menstrual products
Not all women menstruate and not all who menstruate are women. Cisgender individuals' gender aligns with their sex assignment, whereas trans, non-binary, and intersex peoples' do not. Anybody with a typically functioning uterus and vagina will menstruate, regardless of their gender identity. Therefore, it is important to acknowledge that all genders can menstruate.
Not only are women more exposed to plastic and its negative effects through nursing and industrial work, but in addition, menstrual products also pose an increased health risk due to their high plastic content. Menstruating people use around 10,000 to 17,000 menstrual hygiene products in a lifespan. Yet, many are unaware that those products mostly consist of plastic and other materials that are not biodegradable.
Tampons can comprise up to 6% plastic, and sanitary pads even consist of up to 90% petroleum-based plastic. Both products may contain the hormonally active compounds bisphenol A (BPA) and bisphenol S (BPS) and petrochemical additives, which are known endocrine-disrupting substances and are linked to heart diseases and cancer. Tampon applicators typically contain phthalates, which can disrupt hormone function and may lead to multiple organ diseases. Plastic-free alternatives include reusable products like washable pads and menstrual cups. However, a great number of those affected cannot afford standard menstrual products, let alone alternatives, in case those are available locally at all. Even if alternatives are available, the high costs, cultural taboos, and lack of behavioral change campaigns to address menstrual education, can result in a lack of take-up. This issue may force girls to miss school for an average of five days a month during their period, which is another aspect on top of the mentioned difficulties around menstruation. This further disadvantages as well as oppresses women and contributes towards gender-based discrimination.
Plastic recycling
Another key issue bringing us towards the end of the plastic life cycle is the disposal, or at best the recycling, of plastic. The participation of women in the informal waste management sector is disproportionately high in many countries. While higher-value businesses in the waste industry are predominantly owned or operated by men, women are often involved at the lower end of the waste sorting and recycling value chain and their work takes place in municipal waste, dumpsites, and landfills. Recycling is particularly harmful to those who dismantle contaminated materials. For example, to get to valuable copper, PVC-coated cables are burned. The smoke contains highly toxic dioxins that are harmful to reproduction, damage the fetus, and can cause cancer. Women may also burn household rubbish in backyards or sort through toxic trash, typically as part of unpaid family labor and care work.
People without access to education, housing, health services, and even food, including mostly women and children, have limited choice but to scrape a living by processing other people's garbage. At the same time, they are often the only ones closing the waste management loop and creating a circular economy by diverting reusable materials from garbage into the secondary market. Even though these efforts help reduce greenhouse gas emissions, and provide environmental-health benefits to the community, it happens at the cost of women's health, education, and future prospects.
Tackling the plastic problem
Women are deprived in many ways regarding plastic and plastic waste disposal. Yet women are at the same time often the ones who start initiatives that aim to reduce the consumption of plastic and protect the environment and people. They have significantly more favorable attitudes regarding environmental and ethical practices, this shows in their willingness to use their consumer power to influence companies and governments. In Indonesia, Vietnam and the Philippines, a study found that though men in these countries are more knowledgeable about what happens to waste, women are more willing to learn about and take on waste management and prevention.
One initiative tackling plastic pollution is the women-led construction company Rebricks, based in Jakarta. The Indonesian start-up was co-founded by Ms Ovy Sabrina and Ms Novita Tan in June 2018.  Rebricks collects multi-layered composite plastic waste and mixes it with classical construction materials, such as cement, to produce recycled green bricks. The plastic waste used is so-called 'rejected plastic', waste that is hardly recycled and therefore lands straight at landfills or pollutes the environment. With this innovative business idea, the two female youth entrepreneurs are contributing greatly to a solution to Indonesia's plastic waste problem. The Circular Innovation Jam (CIJ), organized by The Incubation Network, selected them among the top three startups with focus on plastics circularity. Their success shows that in order to stop plastic pollution, more females making a difference in dealing with environmental issues are desperately needed.
Women need proper support and encouragement to contribute towards solutions to plastic pollution. It is also important to acknowledge gender-based discrimination in terms of plastic and plastic pollution. However, acknowledgment means nothing without sufficient responses to tackle the issues. Behavioral change campaigns must consider gender equality, or else they will be less effective and can reinforce harmful gender norms. The Global Plastic Action Partnership's (GPAP) Guide to Ensure Gender-Responsive Action in Eliminating Plastic Pollution is one example of a limited number of guidance documents to work on this problem.
It's bad enough that women in the 21st century still suffer from gender-based discrimination, but that the health of many females suffers as a result, they are defamed for their efforts in the fight against the plastic problem, and at the same time, also blamed for the problem that affects them primarily is enraging and unacceptable.
Ultimately, women's initiatives should not be used to impose further burdens on them, but all genders should take equal responsibility in the fight against plastic pollution. We need to acknowledge that the plastic crisis must be on the feminist agenda. Harmful gender norms have to be unlearnt and rethought in order to leave gender-based discrimination behind – not only regarding plastic but in every aspect.
__
Cinnamon Isabella Ernst is an environment and human rights student activist, currently studying B.A. International Cultural and Business Studies with focus on Southeast Asia in Passau, Germany.
The views expressed in this article are not necessarily those of Heinrich Böll Stiftung.