Article
Thailand has a long-standing vegan tradition in the form of jay, a Buddhist-Taoist religious practice. But more recent trends of veganism from the West carry no burden of creed nor of animal activism. In fact, going "plant-based" in Bangkok is a recent, fashionable trend fueled by Instagrammers' photogenic shots of vegan dishes and Western culture.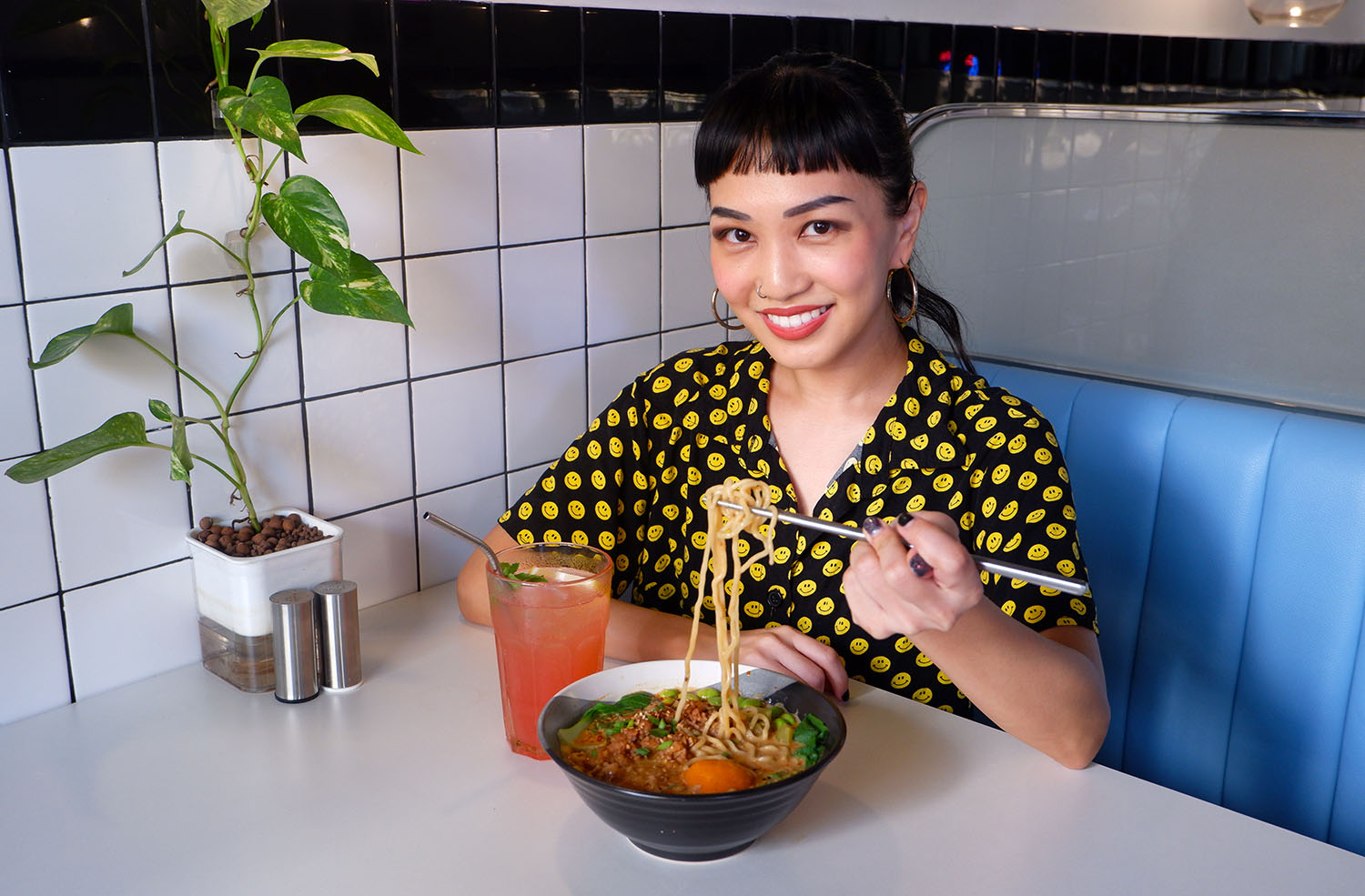 When Napaphatsorn Totienchai began baking vegan cakes to sell eight years ago, her parents wondered whether anyone would buy her dairy-free pastries. Today, the socialite's Veganerie restaurant has several branches throughout the Thai capital, and her Instagram is one the many promoting the plant-based lifestyle.
"Some people go vegan for health, others do it because it's delicious. Some do it for animals or the environment," Napaphatsorn said. "But whatever the reason, the mood and tone is chic. It looks like a trend that is fun, you can post it on your Instagram, and everyone wants to be a part of."
Indeed, negative connotations associated with "veganism" in the West aren't applicable here. Rather than the stereotype of the Western vegan – which may carry negative, outdated stereotypes of aggressively-evangelizing plant-eaters who shame meat-eating friends and picket at slaughterhouses in their free time, Thai vegans are seen as slim, bikini-ready Instagrammers eating expensive avocado toasts and acai bowls. 
"When I was starting my restaurant, the word 'vegan' hadn't entered Thailand yet. I had a foreigner friend tell me to change the name of my restaurant, because 'vegan' shouldn't be in it," Jajah, 27, said. "But I stand firm on my ideals, and now the word 'vegan' has a good perception in Thailand."
There are also virtually no protests for animal rights in the country – the few and far between are done by foreigners, such as those working for PETA.
"I knew that I must be the person to make it a positive word, associated with chicness," she said. "It's a fashionable youth movement that improves the world, and isn't related to religion."
Of course, Western veganism has come a long way since its day of stereotypes, with a more diverse 6.5 million people (out of 85 million) in Germany alone subscribing to vegetarianism.
Different Generations, Same Diet
Predating any Western vegan trends in Thailand is jay. Brought to Thailand by Chinese migrants, jay is a Buddhist creed of abstaining from animal products, as well as the "fetid" vegetables such as garlic, leek, chives. Those who "gin jay" (literally, "eat jay") flock to shops or stalls with a yellow flag with "jay" written in red to load up on fried tofu, vegetables, and rice.
Vacharee Charoenchaichana is a 69-year-old homemaker who has been jay for about 40 years. Ethnically Teochew Chinese, she subscribes to the Taiwanese tradition of Buddhist vegetarianism. Although she occasionally indulges in egg or dairy products, the rest of her diet is strictly jay, and she sells orders of homemade jay snacks.
Jay versions of Hainanese chicken rice, roasted duck, and roasted pork are just some of the dishes she makes at home. But Vacharee has been floored by the recent opening of vegan restaurant openings in Bangkok, which she welcomes with open arms – dining on vegan sushi is one of her favorite options. 
"It's the right thing to do. Being jay is for those with a merciful heart, who want to have a good body," she said. "These people don't have to be religious, either."
Vacharee understands that "vegan" means those who want to abstain from animal products for reasons such as health and animal welfare. Back in her day, Vacharee said that others viewed that people who were willingly abstaining from meat outside of the annual jay festival in September were overly religious, or in her words, "not very smart."
 "People thought we weren't getting nutrition. But now, people who are eating jay are all educated. They aren't just merciful, they know where to find healthy things that taste good," Vacharee said.
One of those vegans bringing delicious dishes to vegan-curious Thais is Mika Apichatsakol, 29, who opened Bangkok City Diner in 2020. Even amidst the pandemic, loyal vegans ordered her vegan ramen and mac 'n' cheese dishes to get their fix.
"I achieved mental peace with veganism," she said. "For the older generation, they see that I'm getting food karma and being very moral. It's not for a religious reason, but is for an ethical one, though."
Seeking to find more places to accommodate vegans, Mika opened her vegan diner, which includes a Tan Tan Ramen with a vegan egg – its nutty soup and umami gelatinous egg like something from a Los Angeles food cart. It is a far cry from the usual jay dish of deep-fried mushrooms, taro, and stir-fried veggies.
"For our parents' generation, going vegan is often about health or merit-making. Their minds are harder to change," Napaphatsorn, the Veganerie owner said. "But for people from 17 to 35 or so, it's because they want to change the world for the better."
Napaphatsorn said that some friends thought she was vegan for religious reasons and wrongly assumed that she also abstained from alcohol, as jay people do. "But I drink vegan wine, put on makeup, and use vegan leather bags. I'm not dressed in all white," she said, referring to Buddhist nuns.
Expat power couple Max Hellier, 32, and Joanna Broomfield, 29, run the nonprofit website Root the Future that promotes vegan products and a vegan lifestyle in Thailand. Launched in May 2020, the platform posts bilingual information in Thai and English about the latest plant-based food products and newly-opened plant-based eateries.
Hellier and Broomfield say that for those in their late teens to people in their thirties, the main motivations for going plant-based is for health reasons, including to lose weight. For younger Gen Zs, the pair says environmental concerns are one of the main reasons, but those going vegan for animal advocacy reasons can be found across all ages.
Hellier estimates there's about 3 million jay Thais. "The younger generation may have jay ancestry, so they see plant-based food as a logical evolution," he said.
'The Photos Come First'
The trendy Western "import" of veganism is fueled by social media – with "food porn" photos of vegan dishes fueling people to go green on their plates.
Hellier and Broomfield found that by far, the best way to reach the Thai audience by promoting veganism is not imagery of animals being slaughtered for meat, but real delectable photographs of food one cannot believe is not vegan, such as shots of plant-based substitutions for caviar, steaks, and tuna.
"We're subtly breaking down plant-based myths with really sexy pics of food. There might be a really beautiful milkshake, and we'll write below, 'Do you know that dairy is bad for the environment?'" Hellier said. "While photos of dead animals have their place, they're very confrontational."
Since there is a lack of a negative connotation associated with veganism, even meat-eating Thais are often willing to try vegan versions of their favorite dishes, especially if there is a viral post about it accompanied by highly-saturated pics.
"The photos come first. People judge by outer appearance within three seconds, and it's true with food too. So it is important to have beautiful photos of vegan food," Napaphatsorn added. "Even meat lovers want to try plant-based meat, so they can go, 'wow, it tastes just like meat!'"
Vegans and those curious about the lifestyle often congregate in Facebook groups for the like-minded. Mika frequents two main ones: the Vegans of Bangkok Facebook group (about 3,900 members), full of English-language posts by expats, as well as the much larger Vegan of Thailand group (approximately 29,800 members and counting), which has Thai-language posts.
In both groups, vegans share recipes and update each other on the latest vegan places to eat, with vegans flocking to newly-opened shops or pouring in orders soon after.
"Even a lot of these places are run by non-vegans. I hope people will see the financial benefits of that, and continue to provide even more vegan food options," Mika said.
Hellier, Broomfield, and Mika also worked together to produce the first-ever vegan fashion photoshoot in Thailand for the April 2021 edition of the high society Thailand Tatler magazine, Equipped with faux-leather bags, cruelty-free makeup, and munching down on vegan buns and cakes, models posed sumptuously in plant-based supermarkets and on the streets of Bangkok for the photoshoot.
"We're trying to glamourize veganism," Broomfield said. "It's not the old school vegan with hippies and dreadlocks. We're throwing that out the window."
Thailand: A Perfect Storm for Veganism?
Perhaps more than other nations, Thailand may be better-geared towards its inhabitants eating vegan – if not permanently, then at least consuming less meat in their diet. Thailand's vegetable and herb-heavy cuisine, a non-confrontational social culture, and the impacts of COVID-19 on health concerns could all lead to more Thais consuming plant-based food.
"I think Thailand is the second easiest country to be vegan, after India," Napaphatsorn said. "The trend in Bangkok is on the rise. Soon we will be on the same levels as Berlin and London."
Napaphatsorn said that due to Thailand's rich resources of tropical fruits and vegetables, it is very easy to find meat substitutes – banana blossom can be substituted for fish, jackfruit for pork, mushrooms for fried chicken to go with a fish sauce-free som tum. The use of coconut milk as a base in many soups and curries is already an automatic bonus. 
"We've never been anywhere in Thailand where they couldn't cater to vegans," Broomfield said.
While the stereotypical Western vegan may be used to espousing the benefits and morality of a plant-based diet to meat-eaters who may react belligerently to changing their eating habits – Thais' non-confrontational social culture puts these interactions outside the realm of a polite gathering.
In matters of difference, Thais are more likely to express interest in the other person's views (albeit surface-level), rather than try to convince the other person to go back to eating meat. At a mention of someone being vegan, a Thai may say, "Oh, you're so skilled to be able to do that," or "No wonder your skin is so clear," or "My auntie is also jay," rather than a tirade to convince someone to chow down pork shabu shabu.
"My friends used to be worried about where they could take me for my birthday," Jajah said. "But now, there's so many vegan places to go to."
Another aspect of Thai social culture – the fact that Thais often eat out together and share main dishes – could also be a boon for burgeoning veganism. When friends invite Mika to a place that turns out not to have any vegan options, guilty glances are exchanged at the table.
"People ask me if I miss meat, but I don't. For me, the hardest thing is the social aspect," Mika said. "There's been so many times the only thing I could eat at an outing is lettuce and rice. Then my friends feel bad, and I don't want them to feel bad."
Of course, now many non-vegan restaurants have at least some vegan options available. Hellier and Broomfield say they've seen a huge boost of interest in veganism among Thais in just the past half year – partly due to an interest in health and a desire to avoid meat due to COVID-19.
"People are hungry in more ways than one for vegan sustainability," Broomfield said. 
When an outbreak of COVID-19 was traced to the large seafood Mahachai Market in Samut Sakhon, consumption of seafood and shrimp nationwide dropped – for better or worse, as restaurants and fishmongers were hung out to dry by the sudden seafood scare.
And perhaps, a penchant for all things cuddly and cute (narak in Thai) could also convince Thais to spare the life of a cute animal or two. Napaphatsorn made headlines in various local papers in February and March after she posted photos of her pet chicken, Jog, who is almost 5 years old.
In Thailand, chicken is one of the main consumed meats, and raw or processed chicken meat by the Charoen Pokphand conglomerate – one of the largest in the world – is ubiquitous. With each interview, Napaphatsorn emphasized that Jog was her winged friend, and that chickens deserve to live more than 45 days, or how long they are usually allowed to live in the poultry industry.
"Veganism allowed me to follow my instincts and stop fooling myself," she said. "Let me ask you, if you see a little pig, is your instinct to kill it, or to cuddle and help it?" 
This vegan Bangkokian subculture may be burgeoning in the capital, but outside of it one would be hard-pressed to find contemporary vegan dining. Other than a few eateries in Western expat hotspots like Phuket or Chiang Mai, much of the Thai masses in rural provinces will still associate abstinence from meat with the jay tradition, rather than the hip Western import. The provinces usually see a slower trickle-down effect from Bangkok, where cafes, Korean restaurants and shabu-shabu places open in the years following saturation in Bangkok. Therefore, we may soon see vegan restaurants after the vegan trend and lifestyle grows in numbers.
__
Asaree Thaitrakulpanich is a journalist at Khaosod English, writing news articles ranging from hard crime, politics to environment, lifestyle and culture. She graduated from Chulalongkorn's Faculty of Arts; Bachelor of Arts in Language and Culture in 2016 as a gold medalist valedictorian.
The views expressed by the author are not necessarily those of Heinrich Böll Stiftung.