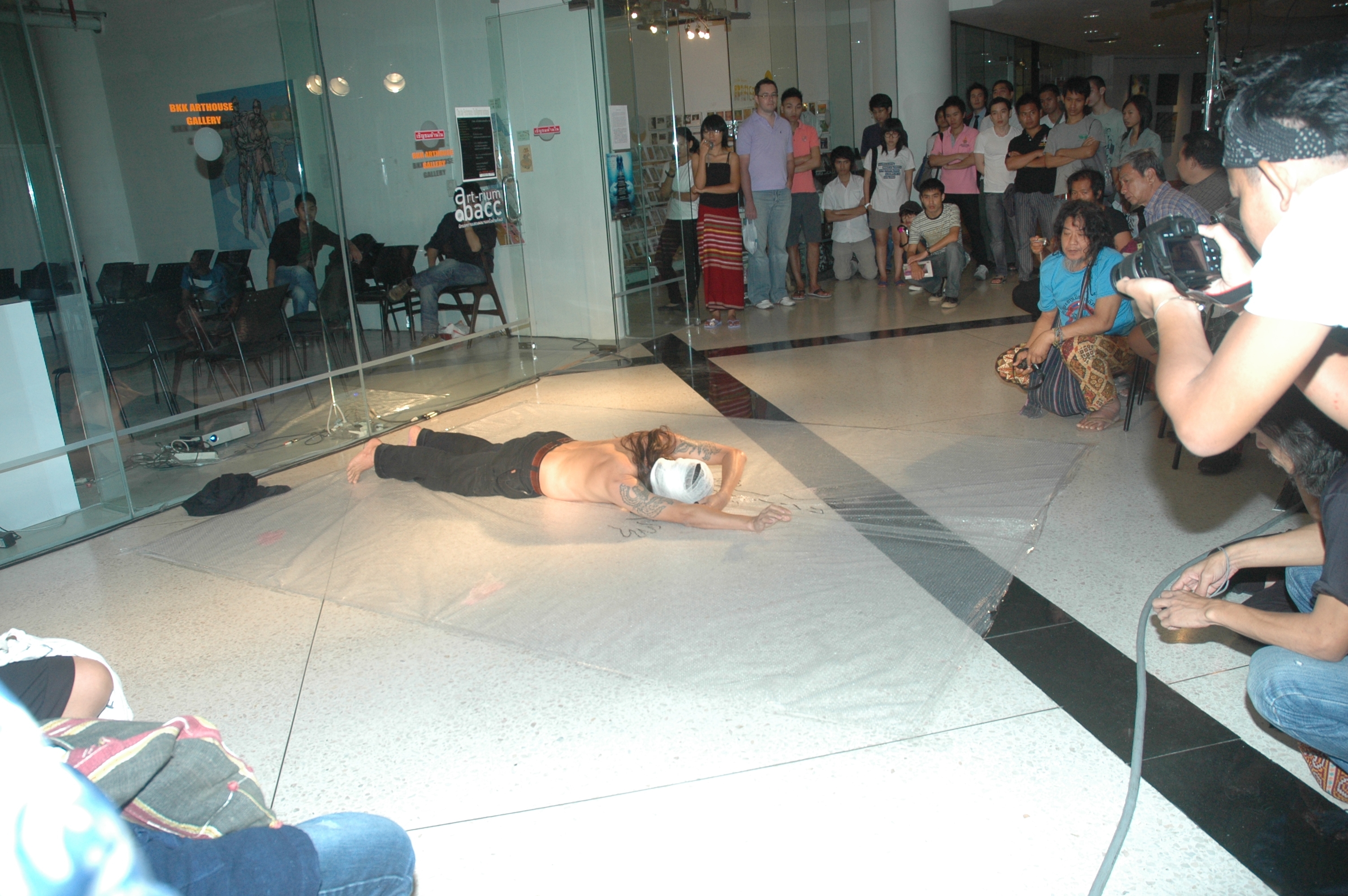 As part of the Artist Exchange Program 2010 between 22 July and 1 August a group of artists from Myanmar/Burma visited two other countries from the Mekong Region, Vietnam and Thailand. The exchange consisted of two parts. The first part took place between 23 and 25 July in Hanoi and was hosted by the Nhasan Studio. Afterwards the group paid a visit to Thailand to the Bangkok Art House Gallery at the Bangkok Art and Culture Centre (BACC).
The aim was to get artists from the Mekong Region together to provide a platform for exchange on contemporary art movements, share ideas, learn from each other and build new networks. In addition Myanmar artists could present their art work to a wider audience in the Mekong region.
The exchange was organized and curated by Aye Ko - one of Myanmar's leading artists and founder of the New Zero Art Space group in Yangon - with the support of local curators and organizers in Vietnam and Thailand. He and Kaung Su, Nyein Chan Su (NCS) and Thar Gyi from Myanmar/Burma visited Vietnam to meet with five other Vietnamese artists. The first venue of the exchange was the Bui Gallery were the event started on 24 of July with a discussion and presentations. Aye Ko gave an introduction about "Myanmar contemporary art history" and the "New Zero Art History". Afterwards the Myanmar artists presented and talked about their art work. Common issues during the discussion were the issues of censorship and the situation and development of the art markets in both countries. The following day at the Nhasan studio participating artists from Vietnam and Myanmar/Burma both made art performances which were very well received by the audience.
After their visit to Vietnam the four artists from Myanmar/Burma were invited to the Art House Gallery in Bangkok's Art and Cultural Centre (BACC). On the 1st August five Burmese artists (Zoncy, another artist from Myanmar/Burma joined in Bangkok) and three artists from Thailand gave presentations and performed together for a "Thai/Myanmar One Day Performance Art Event". The BACC - one of Bangkok's most frequented art venues - was a perfect location for this purpose. Many visitors and passers-by could observe the performances. For most of them it was the very first time to get in contact with Myanmar art performance. For all participating artists the exchange was a great success as reflected in their statements:
"Vietnam & Myanmar are both isolated for long decades, so the Mekong project was giving us really important occasion to sharing our historical, social, cultural & art background…I hope that we will have more arts exchange project like this to stimulate the cultural scene for Mekong region…"  Tran Luong (artist and organizer, Vietnam)
"About Myanmar artists who show their work in Bangkok, they are more free to communicate with each other…and very interest for the stranger who never know way of Myanmar life" Mongkol Plienbangchang (artist and organizer, Thailand)
"In both countries we noticed that young generations are enthusiastic for the new future of art. The ordinary people on the streets who have never touched art became interested in the public art such as performances….Having similarities in our social context and political backgrounds, it was very interesting to collaborate with the artists. We expect that Southeast Asia would become an important regime of arts in the future according to these exchange programs."  Aye Ko (artist and organizers Myanmar/Burma)